Health spending in the United States is the highest in the world and expected to reach $4.5 trillion this year.
High health insurance premiums, high-deductible plans, the cost of services, and surprise medical bills are putting people in the red.
According to a recent report by the Kaiser Family Foundation, nearly 1 in 10 adults — an estimated 23 million people — owe medical debt.
Between rising healthcare costs, inflation, and the imminent risk of stagflation and a recession, consumers will have to shoulder even more of the financial burden or forego care altogether.
In fact, a recent survey found that 52% of Americans are avoiding care due to costs. Nearly the same amount are ignoring doctors' recommendations (50%) and delaying or skipping medications (49%).
One element behind the high spend is the administrative complexity of the revenue cycle, which affects the patient experience.
Although providers are focusing more than ever on increasing patient satisfaction, they continue to face a myriad of challenges, including low volumes, workforce shortages, and increases in labor costs — to name a few.
The Healthcare Financial Management Association (HFMA) recently held its annual conference in Denver, with industry experts coming together to talk about the challenges facing healthcare organizations today.
Ben Beadle-Ryby, SVP and co-founder of AKASA, Amy Raymond, VP of revenue cycle operations at AKASA, and Tommy Ibrahim, MD, president and CEO at Bassett Healthcare Network, presented the session, "Improving the Patient Financial Experience With Automation."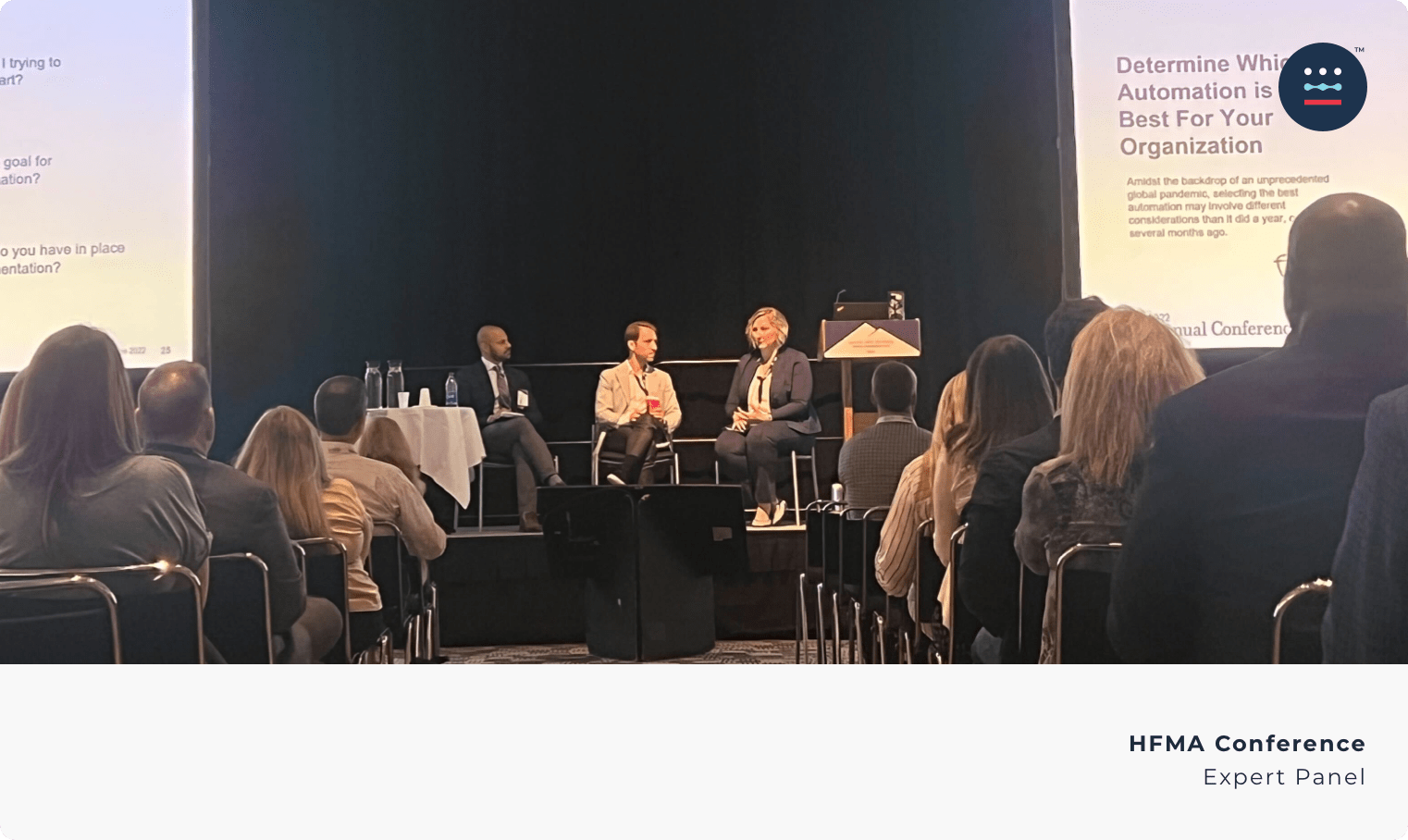 Here are five takeaways from the panel you need to know.
1. Automation Is No Longer a 'Nice To Have'
Today's hospitals and health systems in the United States face multiple challenges, including:
Low patient volumes
Increases in labor costs
Workforce shortages
Investment losses
Increasing payer complexity
Additionally, cost-to-collect over the past 10 to 15 years has plateaued — hovering around 2.5 to 3% of net patient revenue (NPR).
"We've leveraged analytics, dashboards, and workflow tools, but we've really struggled to bend the cost curve in the last several years," Beadle-Ryby said.
For Bassett Healthcare Network, which has $1 billion in NPR, and covers eight counties in rural, upstate New York, workforce shortages, in particular, have been a challenge.
"There has been a significant supply and demand issue that's been created, and everything that I've seen seems to indicate the problem is going to get worse, not any better," said Dr. Ibrahim.
Across the board, revenue cycle teams are challenged with doing more with less, and as a result, organizations are looking to automation.
Automation is no longer a nice to have, but an essential component to healthcare organizations' go-forward strategy.
~ Ben Beadle-Ryby, SVP and Co-founder of AKASA
Automation has become a strategic priority for Bassett Healthcare Network and a critical tool to capitalize on efficiencies and eliminate redundancies.
Traditionally, healthcare has been slow to adapt to pressing matters like this, and it's really coming on us as leaders to use automation as an element to transform the healthcare delivery system.
~ Tommy Ibrahim, MD, President and CEO at Bassett Healthcare Network
2. Not All Types of Automation Are the Same
The panel talked about a 2021 HFMA survey commissioned by AKASA, which found that 78% of health systems are currently using or are in the process of implementing automation in their revenue cycle operations.
To get a current state of affairs, the panelists conducted a live survey of the session attendees:
Question #1: Are you currently using automation?
Question #2: At what stage of automation within the revenue cycle are you?
42% exploring what it means
32% implementation executed
19% implementing a solution
7% RFP with vendors
Question #3: What type of automation are you using?
37% RPA
30% don't know
21% RPA+ AI
12% AI + machine learning
The panel then talked about the differences between robotic process automation (RPA), artificial intelligence (AI), and machine learning (ML).
They explained that although RPA can help drive efficiencies, it's better suited for static, rote, and linear tasks because once changes or variations are introduced, it breaks. Also, RPA can only complete a portion of a task, leaving the rest for staff to follow up on or hire expensive consultants, which increases costs.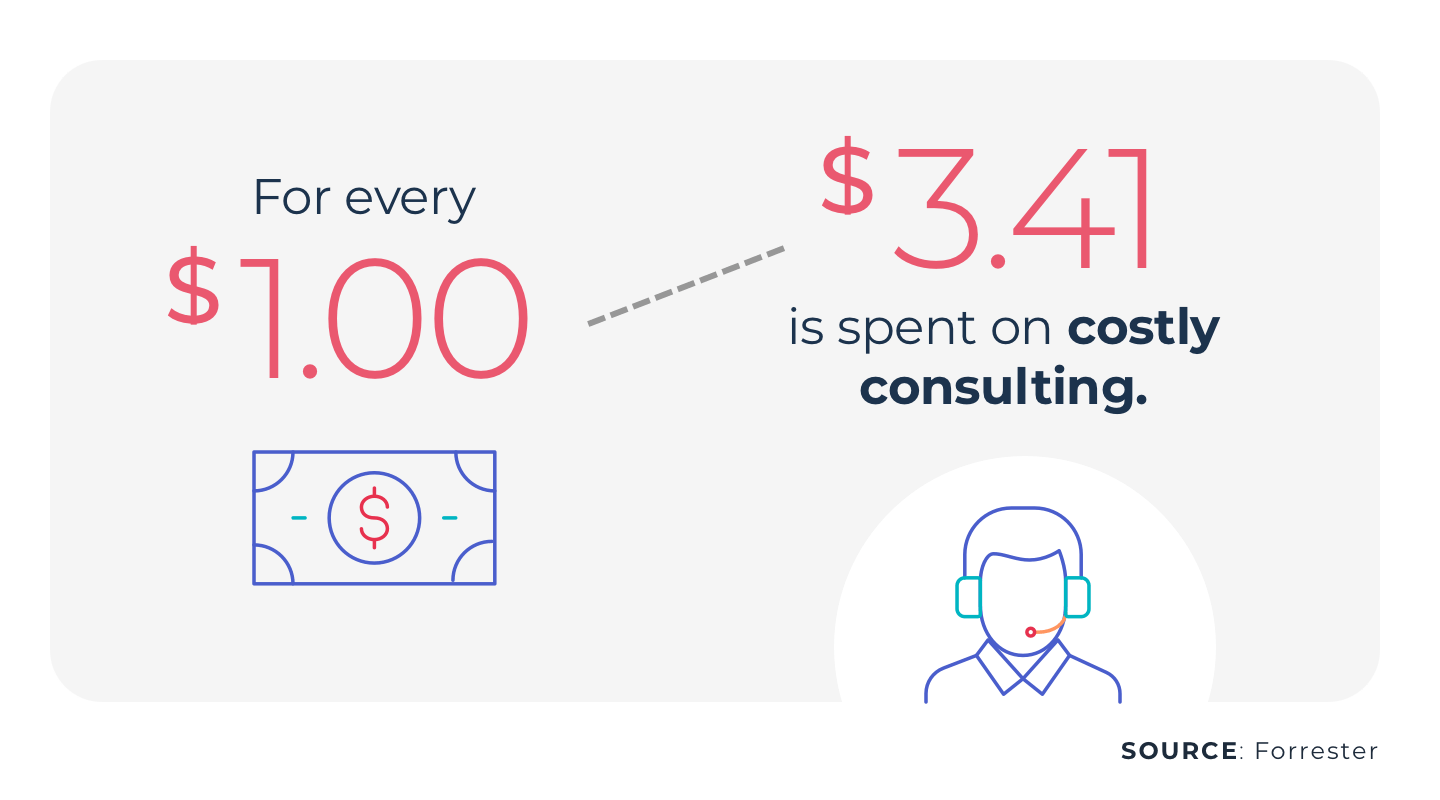 They went on to describe the benefits of AI and ML (a subset of AI that improves upon itself and learns from humans to resolve outliers in complex situations) and the human-in-the-loop approach, which brings in human judgment and subject matter expertise.
"We have the opportunity to deploy advanced automation that tackles non-linear, complex workflows across each of these revenue cycle functions," said Beadle-Ryby.
When one session attendee asked about the type of data AKASA uses to train its technology, Beadle-Ryby explained that they leverage historical EDI information and then have their revenue cycle operations team do data labeling for the models that supports the ongoing development.
3. Automation Can Help Improve the Patient Financial Experience
Although process improvement can help organizations achieve their KPIs, what is perhaps more important is giving patients a better financial experience.
"The job of the revenue cycle staff is to be an advocate for the patient," said Raymond.
With automation, staff can shift their attention from repetitive, mundane tasks to patient-facing activities that help patients navigate and advocate for their full benefits.
Automation can also enable price transparency, prevent surprise medical bills, and ensure patients get a correct bill the first time, every time.
4. Before Starting With Automation, Know Your Goals
The panel explored some of the areas automation can help drive efficiency, including:
If you look at the healthcare system in its entirety, anything that has a repetitive nature to it has some applicability for automation.
~ Tommy Ibrahim, MD, President and CEO at Bassett Healthcare Network
While organizations can start small with automation or deploy it on a larger scale, the first step is to understand their unique challenges and goals, whether that be payer complexity, labor shortages, or something else.
"Understanding the primary area to measure and make sure you're tracking against that goal is critical at the very beginning," Raymond said.
It's also essential to understand the current infrastructure and what is needed to support that. Organizations need to find automation partners who can address their workflows and needs.
Here are 9 things to look for when selecting an RCM automation provider.
The panelists also noted that although many organizations have eligibility tools built into the EMR or patient accounting software, staff are still necessary for daily work queues. Advanced automation, which works within those workflows, can address errors and outliers and allocate staff to more high-value tasks.
"It's about realizing what your workforce is still handling, regardless of what current technology does for you," Beadle-Ryby said.
Toward the end of the session, one of the attendees asked about the panel's experience with payers' responses to automation, since his organization had to cease its efforts when they had pushback from a payer.
Although Beadle-Ryby said that the payers AKASA has worked with are usually interested in reducing inefficiencies, a few regional payers haven't been able to accommodate new solutions.
"There absolutely has to be a collaboration with payers," he said.
5. Prioritize ROI
Like any new solution, ROI is important. With automation, ROI should be aligned with the KPIs to which an organization holds itself accountable.
These will likely include cost to collect, days in A/R, and overall yield. But, understanding the type of solution is key to success.
"Not all forms of automation can deliver against all three of these KPIs," Beadle-Ryby said.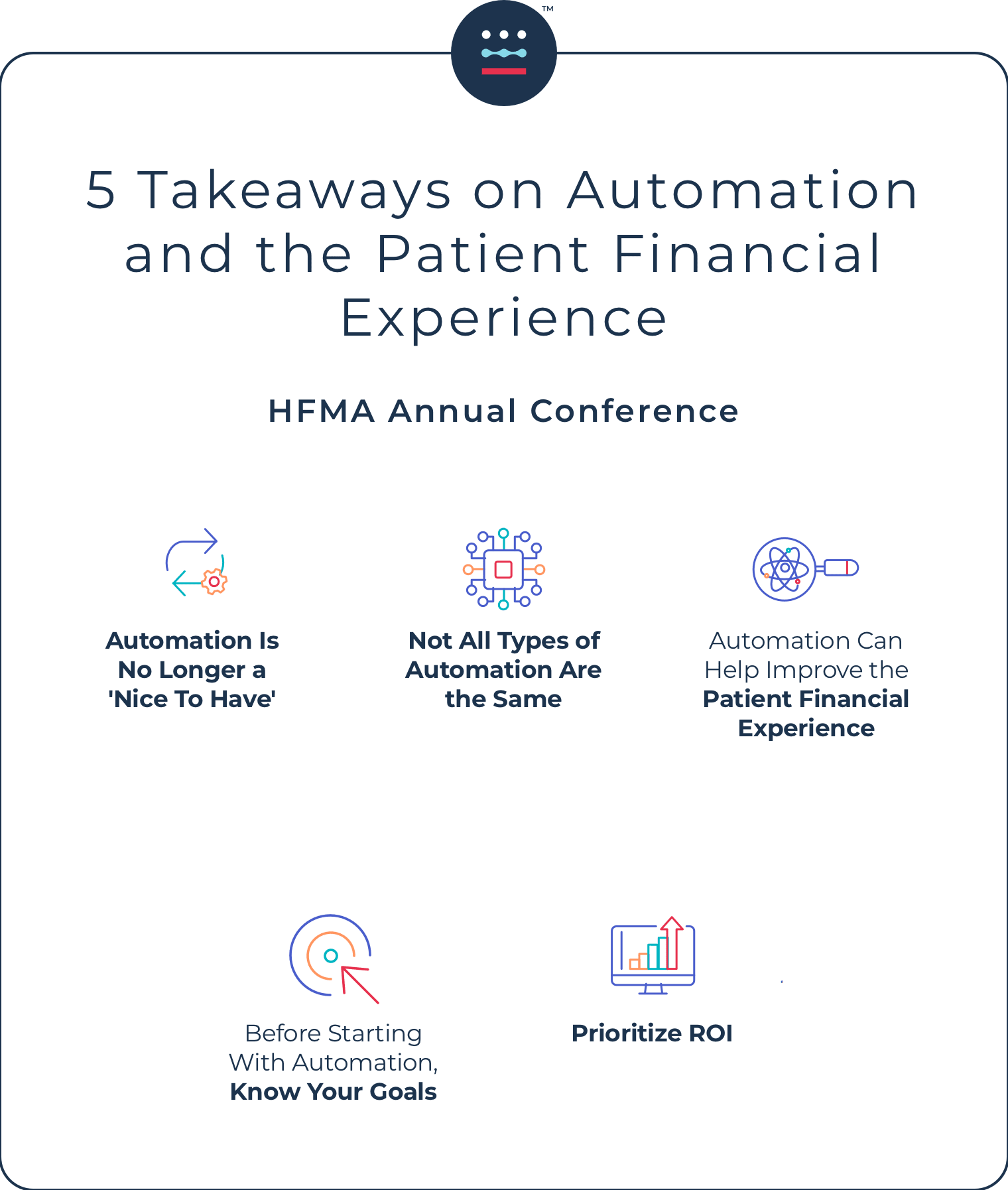 A key takeaway from the HFMA panel was that hospitals and health systems will continue to face multiple challenges. But with the right type of automation and strategy, it's possible to drive efficiencies, appropriately allocate staff to work at the top of their skill set, and increase revenue outcomes.
AKASA's Unified Automation® platform can help your organization drive that efficiency and get the most out of your staff. Through a combination of AI, ML, and revenue cycle expertise, our automation makes it possible for you to streamline numerous tasks and do more with less. And because our automation sits upstream in your work queue, your team never has to interact with it and can focus on tackling more complex work and delivering the best patient experience possible.
Schedule a free consultation and see how AKASA can help you expand what's possible.