Who are engaged employees in the revenue cycle?
You know them when you see them — they're the ones quickly knocking out their workflows, supporting others during hardships, and coming to you when things don't always go right. Engaged employees are generally happy doing their work, whether it's contacting payers, tackling difficult denials, or helping patients.
Plus, engaged employees are more likely to stay with your organization and are often more productive.
Your healthcare organization stands only to gain by having an engaged team. Yet, engagement is at a lackluster 36% across industries.
It costs $5,699 to replace a senior-level revenue cycle employee. And, worse, it takes 207 days on average to fill a senior-level role. That's a long time for your existing staff to carry extra work.
Staffing challenges are also hitting healthcare revenue cycle departments. More than 57% of healthcare organizations have 100 or more open positions in operations.
Staffing challenges are so common in healthcare, we've created an in-depth ebook pulling expertise from veterans in the industry to help ease staffing burdens.
With staffing challenges and engagement problems running rampant throughout healthcare revenue cycle departments, keeping your existing staff should be a top priority.
Automation is here to help.
In this climate we need to keep every person we're fortunate enough to hire. Engagement is key to this. When we talk about engagement, we're often talking about making things better for our employees and improving processes. Automation checks both these boxes by making workloads more meaningful and allowing for more engaging, valuable workflows.

~ Amy Raymond, VP of Revenue Cycle Operations at AKASA
Automation is great at streamlining patient access and beyond, and allows your team to be more productive with the hours they have in a day. But it's also ideal for helping you drive engagement within healthcare RCM for a number of reasons.
1. Automation Removes Repetitive Work
Healthcare RCM automation is perfect for taking on time-consuming, repetitive work, like checking claims status and submitting authorization requests.
Repetitive work can lead to boredom, which is shown to negatively impact an employee's well-being. Removing this mundane work makes room for your team to focus on more challenging and interesting tasks, like complex denials.
Bonus: these are often more high-dollar tasks for your organization that can drive revenue outcomes.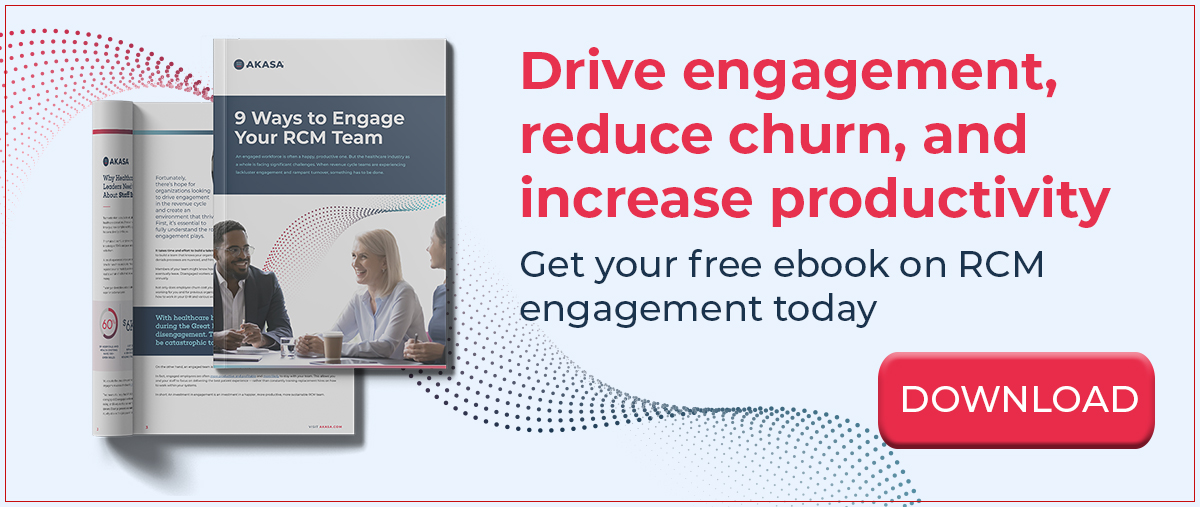 2. Automation Allows for Employee Growth
Growth and learning new skills takes time — time your team likely has little of without automation. Not only does a lack of growth limit your team's potential, but it could also cost you your team.
One survey found employees in healthcare RCM want room for upward mobility. Another noted 47% of employees look for career growth when considering a job. If your team has too little time to learn new skills and grow, they could look elsewhere for work.
With repetitive work automated, your team will have time to work on more challenging, engaging tasks. This presents the perfect opportunity for cross-training and the chance to learn new skills and grow. Read why cross-training is the secret to a more productive, engaged team.
3. Automation Helps Stave Off Burnout
Burnout is an increasingly-common topic of conversation when it comes to employment. And it's not unheard of in the healthcare revenue cycle, where employees often work long hours with large workloads and quotas.
Employees suffering from burnout are 2.6 times more likely to seek a new job, and 63% more likely to take sick time than employees not suffering from burnout. There's no single cause of burnout, but being consistently overworked can play a large role.
When your team's already understaffed and overworked, every sick time and lost employee counts.
Automation takes care of repetitive tasks, which not only allows your employees to work on more engaging tasks, but also gives them a rare asset: time.

The average authorization submission takes 12 minutes and 7 seconds alone. That's time your team could better dedicate elsewhere.
Every task and minute is precious in the healthcare revenue cycle, now more than ever. While automation allows for increased productivity, it's equally capable of giving your team the breathing room they need to stave off burnout.
Automation can't turn back time, but it can give some back.
4. Automation Gives You Room To Be a Better Leader
A lack of communication from management is one of the top five reasons for burnout, per Gallup, while 82% of workers would consider leaving their job because of bad leadership.
Automation doesn't just help RCM specialists in patient access, mid-cycle, and the business office — it also helps you become the best leader possible.
It's difficult to be the best leader possible when you're constantly looking for new hires, jumping in to help with queues, and unable to give your team quality 1:1 time.
With the right automation, the most repetitive tasks from patient access to the business office are efficiently completed. This allows you to stress less about claim statuses checked, prior auths submitted, etc., and focus on goal setting, delivering quality training, and helping your team grow in their areas of interest.
It's common to have people in your healthcare revenue cycle department that you interviewed some time back and thought, 'This person would be great at X, Y, or Z.' But, time didn't allow that. Instead, they were inundated with mundane tasks, like claim status checks. With automation, you have the opportunity to lead through action and help your team pivot to areas of interest or even areas of previous expertise. And, they'll love it as a result.

~ Amy Raymond, VP of Revenue Cycle Operations at AKASA
Read how Raymond found engagement in the most unlikely of places and uses that strategy to drive engagement on her team.
Engage Your Team With AKASA
The right automation can help you engage your team, but no two RCM automation solutions are the same. While the right automation is a boon to your team and engagement efforts, the wrong one can result in costly investments that don't pay off and a ton of headaches.
AKASA's end-to-end revenue cycle solution, powered by our Unified Automation® platform, delivers comprehensive automation for complex workflows. Our technology is purpose-built for the revenue cycle. Using artificial intelligence (AI), machine learning (ML), and our RCM experts, we offer seamlessly integrated products that provide efficiency, accuracy, and resiliency.
Our unique approach allows our automation to learn with each task it completes, getting faster and smarter as it goes. If it runs into an edge case or new challenge, our dedicated team of RCM experts-in-the-loop jump in and complete the work while the automation learns.
Our automation has given organizations, from physician groups to multi-billion dollar health systems, time to focus on engagement and relieve staff burden:
19+ FTEs worth of claim checks automated per month
71.3% of accounts removed from staff queues
86% efficiency improvement
13% decrease in A/R days
The end result of working with AKASA? Improved employee engagement, satisfaction, and retention by re-adjusting workloads, reducing burnout, allowing staff to work at the top of their skillset, and empowering your team to do the work they love.
You've worked hard to build the team you have. Don't let them slip away. Schedule a free consultation and see how AKASA can help you deliver a more engaging experience that keeps the talent you have and attracts the talent you need.