Healthcare organizations are often operating on razor-thin margins, especially within revenue cycle departments. As a result, improving revenue outcomes is a goal of every healthcare revenue cycle management (RCM) leader.
But, there are numerous challenges standing in the way of this goal:
Staffing: There are too many tasks and too few hands. Employee churn in healthcare is up 3.6% over last year, with little sign of this trend shifting.
Increasing denials: Denials are a common, costly issue for healthcare organizations. Claim denials are at an all-time high — 33% of hospitals have an average denial rate greater than 10%. Current staffing challenges often translate to new claims getting prioritized over these denials, negatively impacting revenue.
Price transparency: The price transparency rule went into effect in 2021, yet it continues to be a pain point. Forty-four percent of patients look to payers for pricing information, and 34% are unaware this information is available, according to a YouGov survey commissioned by AKASA. This confusion around price transparency — and failure to comply with it — hurts your bottom line in the way of fines and patients receiving services they can't pay for.
Increasing credit balances and aging accounts: An increasingly complex healthcare system is resulting in more credit balances. Coupled with staffing challenges, aging accounts are a problem for healthcare revenue cycle departments around the country.
Write-offs: Even the simplest of coding or billing errors can result in a write-off, forcing your organization to eat the cost and damage your net revenue. Oftentimes these write-offs are easily preventable, given you have the staff or time to tackle them.
In the current healthcare climate, improving revenue outcomes is an uphill battle without end. While staffing challenges and increasing healthcare demands are unlikely to change in the near future, healthcare RCM automation has the potential to drastically improve your revenue.
Few healthcare RCM teams have the staff they need to improve revenue outcomes. And even if they have the staff, it's unlikely their team has time to touch everything. All those missed touches result in unworked denials, aging accounts, claims waiting to be sent — things that significantly impact revenue. This is the perfect time to implement automation, as it allows organizations to scale and meet the increasing demands of healthcare, regardless of team size or staffing situation.

~ Amy Raymond, VP of Revenue Cycle Operations at AKASA
Some current healthcare RCM automation offerings are capable of providing end-to-end support. Several years back, this would be a pipe dream. Today, it's reality.
With current automation comes a number of benefits where revenue is concerned.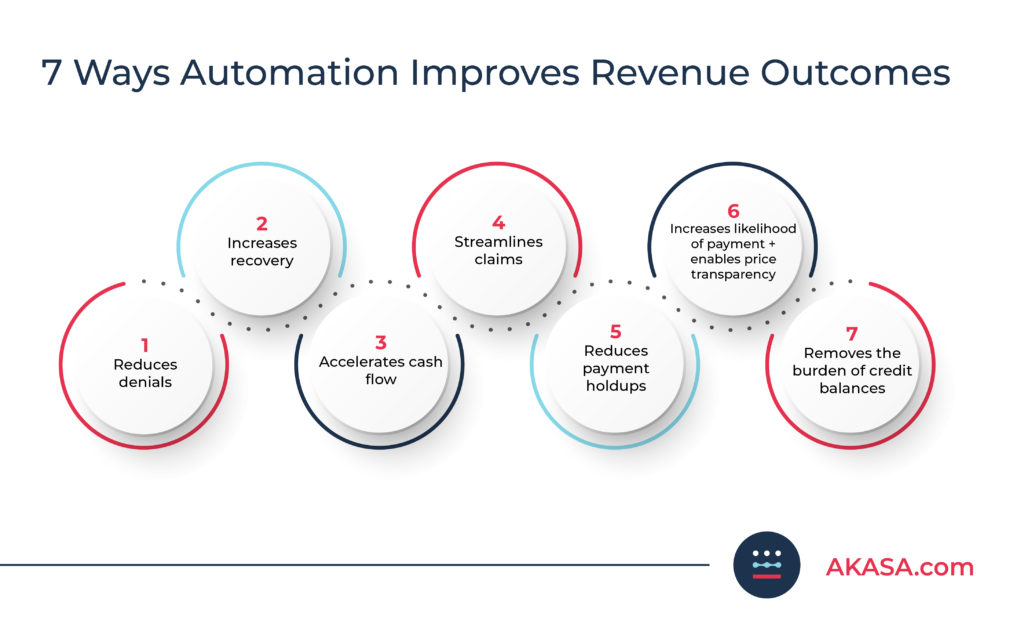 1. Reduce Denials
For years, denials have been one of the more difficult aspects of healthcare RCM to automate. This is largely because of the complex nature of denials, making it next to impossible for robotic process automation (RPA) to handle on its own.
Advanced AI-powered automation, like AKASA's Unified Automation® platform, is able to handle denials through support from human experts-in-the-loop. It can handle eligibility, COB, demographic, coding, documentation, credentialing, or other technical denials.
The automation looks for incorrect information or other reasons for denial, flags the reason for denial, then sends it to the appropriate member of a healthcare organization's team for correction. Over time, this automation collects frequent reasons for denials, allowing for the identification of problematic areas and trends to prevent future denials. And because our automation utilizes machine learning (ML), it learns from every task, making it possible to perform payer portal reconsiderations with corrected claims, even if something in the portal changes.
Our automation is also capable of accurately scanning and submitting payer and patient information, sending timely prior authorizations, and even correcting claim errors — all of which help drive down denials.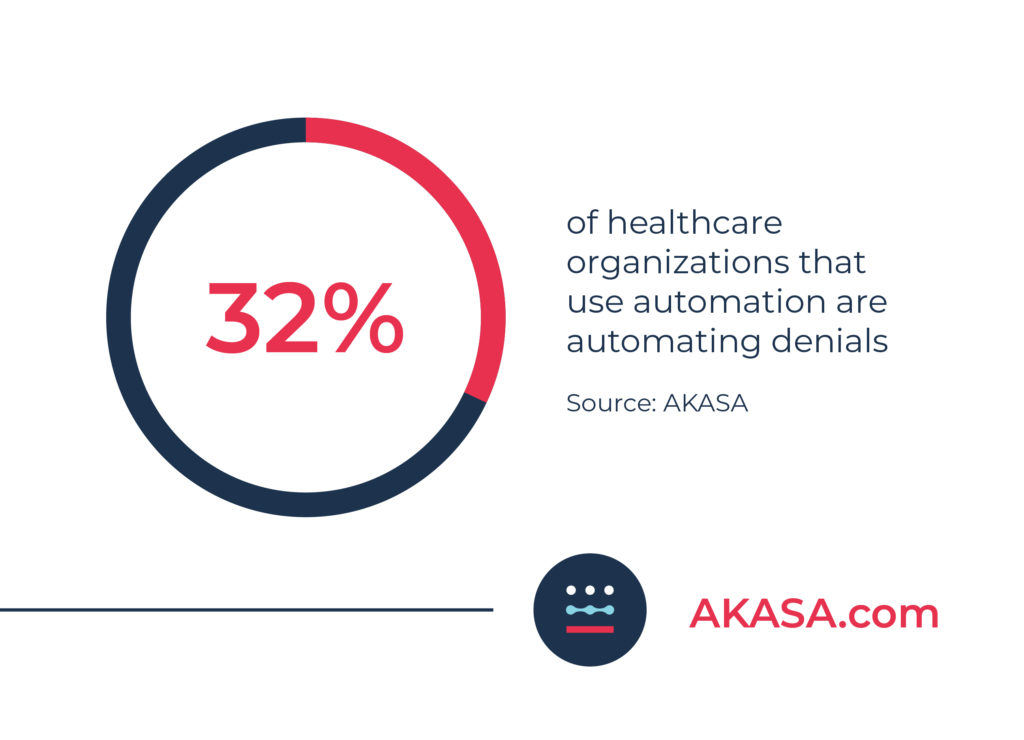 2. Increase Recovery
Modern AI-powered automation's ability to work denials plays a big role in increasing recovery and preventing lost revenue. By working claim denials as soon as they come in, and ensuring resubmissions are timely and accurate, your RCM team can recover more revenue even when denials occur.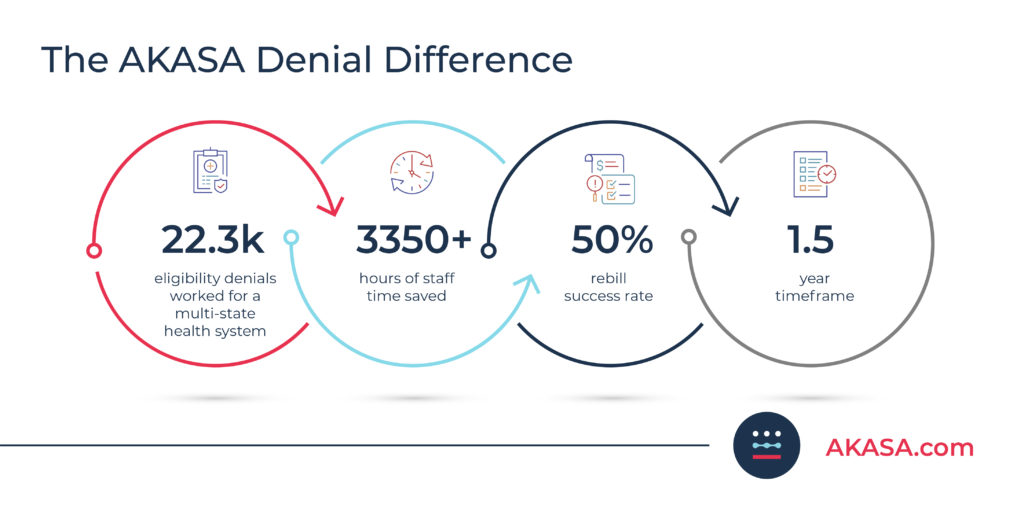 3. Accelerate Cash Flow
Outstanding and denied claims are a frequent source of held-up payment. With staffing challenges present in most organizations, it's especially difficult to find the time to work outstanding claims and keep cash flow moving.
Automation can take on the previously manual task of checking claim statuses, sending requests, and even escalating problematic accounts to the appropriate personnel. Payer response times are unpredictable, making it especially important you handle outstanding claims and denials as quickly as possible. With the help of automation, your team can focus on the most problematic accounts that require human intellect and accelerate cash flow.
For example, with advanced automation, it's possible to queue up two batches of claims each day. Halfway through the day, you can have claims from the previous evening and that morning sent out. Then, at the end of the day, you can have the additional claims worked that day send out. This puts the ball in the payer's court as soon as possible — all without your team having to do a thing.
Setting up two claim runs allowed for claims to be accepted by payers sooner, as claim processing begins at the time it's received. This process has boosted client cash acceleration by half a day to a day sooner in many cases.

~ Yvonne Rosado, Senior Manager of Revenue Cycle Operations at AKASA
4. Streamline Claims
On paper, claims should be simple. But, more often than not, they become a time sink for your team. Automation can help.
Traditional RPA is capable of handling linear claim-related tasks, like claim status checks. More advanced tasks, like prior auth, require AI or ML, along with a human-in-the-loop.
At AKASA, we have experts with deep revenue cycle expertise. When the machine encounters something it doesn't have the confidence to tackle, it triages it to one of our internal experts. The expert solves the problem, teaching the technology what to do the next time it encounters it.
When you're equipped with an advanced automation solution, like AKASA's Comprehensive Claim Status product, you're free to dig into which payers take the longest. From there, you can set criteria for the automation by response time and streamline claims. If half of your payers take two weeks and another payer takes 30 days, you can prioritize the latter and get a response sooner.
Advanced automation also makes it possible to clear more claims.
For example, our Comprehensive Claim Status automation can proactively check the status of claims in the queue in mere seconds. A typical claim status check takes eight minutes. That's eight minutes you can take off your team's plate that they put to better use working on edits or other more complex or value-generating tasks.
When a typical EHR claim edit takes 10 minutes and payer-specific claim edits take nearly six minutes, every minute counts.
For additional RCM benchmarks, download your free copy of our time-per-task report.
Automation can be so helpful with claim statuses. Oftentimes you have one payer that pays in two weeks, another in three weeks, and another in four weeks. Automation is especially useful here. For example, with AKASA's automation you can set it to check statuses at custom intervals, allowing your team to focus on other time-consuming areas, like edits or denials.

~ Yvonne Rosado, Senior Manager of Revenue Cycle Operations at AKASA
5. Reduce Payment Holdups
Any payment that's held up is money your organization isn't getting. Healthcare revenue cycle departments rarely have padded margins, making timely payments a must. Complicating matters, there are numerous sources of payment holdups.
Automation can help you reduce payment holdups by confirming payer requirements, reducing errors in authorization requests and notices of admission, and making timely auth statuses more feasible. And, by getting these elements right the first time, you can cut down on those time-consuming tasks.
6. Increase Likelihood of Payment and Enable Price Transparency
Price transparency requirements aim to provide a better experience for patients and providers alike, but they're often a hurdle for organizations. This is because of the colossal human effort required to initially set up and continue maintaining price transparency.
AI and ML-powered automation can analyze EDI, chargemaster, and cash price data, then assess managed care contracts to provide accurate price estimates. With this information, your patients can make informed decisions regarding care and pricing, and you can avoid costly penalties for failing to follow price transparency rules.
7. Remove the Burden of Credit Balances
As our healthcare systems grow more and more complicated, credit balances are equally more likely to occur. These balances can hurt your organization's reputation with your community, result in hefty fines if not paid out, and provide an inaccurate view of your A/R days.
Advanced automation can take simple credit balance issues from your staff and review them for coordination of benefits, incorrect allowed amounts, and beyond. From there, it can make corrections or flag the appropriate personnel to do so, and process the refund.
This type of automation not only allows your organization to provide a more accurate billing experience for your patients, but also saves your team a significant amount of time. Time that can be better spent on high-dollar tasks.
Improve Revenue With AKASA
Healthcare RCM automation is capable of helping your organization get the money it's owed in a timely manner, even when your staffing levels aren't where you'd like. But, not all automation is equal in capabilities. Many forms of automation are limited in their abilities, using dated technology that can't navigate the complex world of healthcare RCM.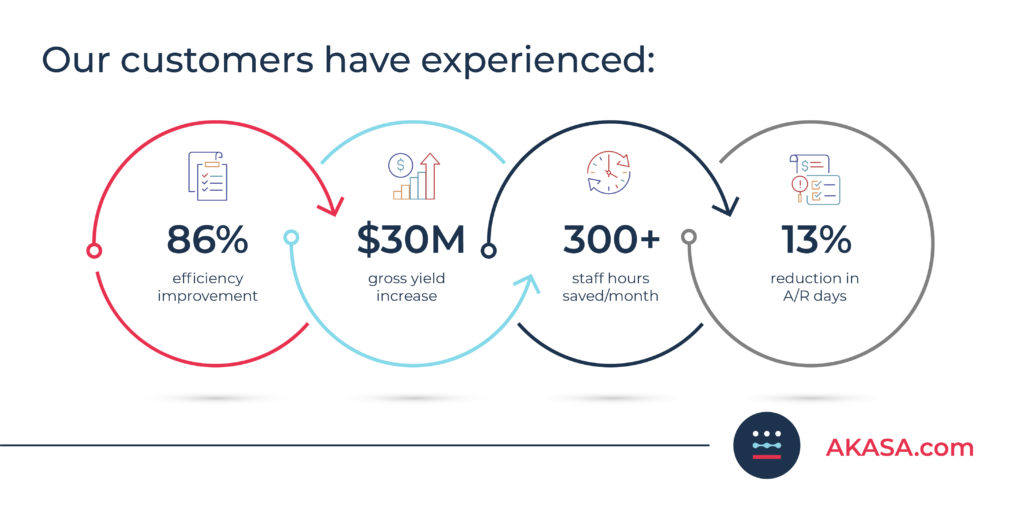 AKASA's end-to-end revenue cycle solution, powered by our Unified Automation® platform, delivers comprehensive automation for complex workflows. Our technology is purpose-built for the revenue cycle. Using AI, ML, and our team of RCM experts, we offer seamlessly integrated products that provide efficiency, accuracy, and resiliency.
Improving revenue is essential, now more than ever. A lot of health systems are really suffering financially today. I see it all the time, and it's a very sad situation. It's important for revenue cycle leaders to understand automation, and that if they let automation do its piece, their team will now have time to focus on other revenue-generating activities. Suddenly, they'll find they can refocus on areas of lost opportunity, remedied by a simple phone call or submission of documentation.

~ Yvonne Rosado, Senior Manager of Revenue Cycle Operations at AKASA
Unified Automation has helped our clients — from physician groups to multi-billion dollar health systems — improve their revenue outcomes, reduce days in A/R, and ease staff burden. And it can help your organization, too.
Sign up for a consultation today and see how AKASA can help your organization improve its revenue and cash flow outcomes.