Healthcare is notoriously slow at adapting and incorporating new technologies into day-to-day operations. Healthcare lags behind as one of the industries with the lowest rate of general digital transformation adoption.
Automation is somewhat of an anomaly in this regard — 78% of health systems are now embracing automation in the revenue cycle.
The increasing use of revenue cycle automation is encouraging. But there's still work to do if healthcare wants to truly innovate and catch up with other sectors regarding technology use. Expanding the use of technology is one thing, but an entire mindset shift is needed for innovation to flourish.
It's no secret healthcare is slow to adopt new technologies. One thing I've noticed from working with so many healthcare systems is a resistance to technology — even after it's onboarded. It's scary to let go and trust a solution, but it's critical to reaping the benefits and giving your team valuable time back.

~ Amy Raymond, VP of Revenue Cycle Operations at AKASA
Let's dive into how healthcare providers — specifically health IT leaders and CIOs — and technology vendors can overcome the top three challenges holding back innovation. With faster adoption of new technologies, we can all step into the future of healthcare together.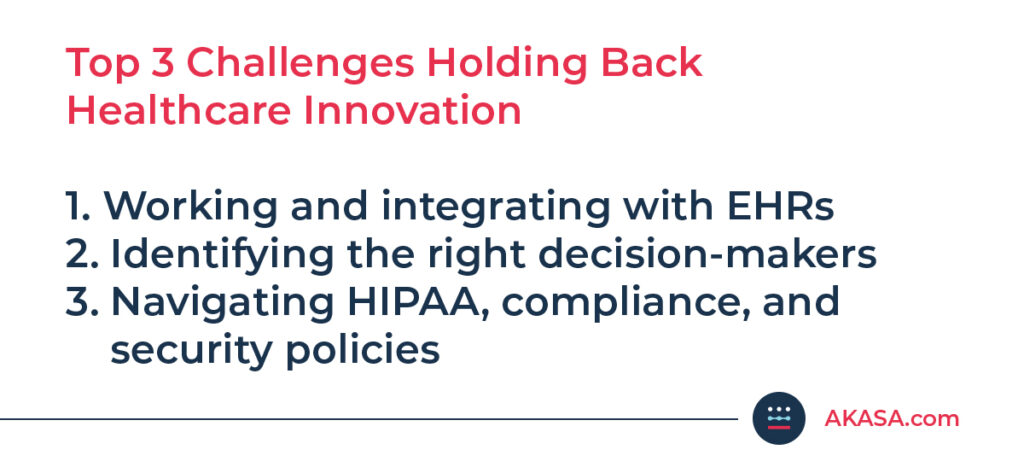 Challenge #1: Working and Integrating With EHRs
Everyone understands the benefits of electronic health records (EHRs). Doctors can track patient information, administrators can easily keep track of medical records, and everyone can breathe a sigh of relief knowing they're in compliance with regulations protecting personal health information (PHI).
So why can some EHRs seem incredibly frustrating — for healthcare staff, IT teams, and their technology partners?
First off, some EHRs aren't always user-friendly. They still require a great deal of manual entry from healthcare staff, and they're time-consuming to navigate. For healthcare technology vendors, EHRs pose several challenges in integrating with external solutions and handling frequent EHR system updates.
However, with as many as 90% of physicians in the United States using some form of EHR, most healthcare teams work in them daily. This means both health systems and their teams (e.g., IT and administrative staff) and external technology vendors wanting to work with them must overcome the challenges of these legacy systems to set themselves up for success.
AI and automation vendors need to take EHR limitations and infrastructure into account when building custom solutions for healthcare. Not only do they need to ensure their technology easily integrates with EHRs — given the vast majority of health systems use them — but they also have to develop agile, resilient, and robust solutions that can effectively navigate frequent EHR upgrades and changes.
They need to create purpose-built technology that conveniently works alongside some of the most widely used EHRs — without healthcare staff having to change existing workflows and processes.
This is a daunting task for tech companies and may be one of the reasons some shy away from the complex and dynamic healthcare space in the first place, building AI-based solutions for other industries that are easier to navigate.
While there aren't as many innovative AI-based solutions for healthcare operations as for other sectors, providers still have access to some great solutions.
Learn how AKASA and Cerner are collaborating on revenue cycle automation.
When vetting automation vendors for their operations and revenue cycle, health system CIOs, CTOs, CFOs, and other decision-makers need to ensure from the onset that the technology can integrate and work with their EHR and other existing systems.
They should also seek out vendors who deeply understand — and can adapt to — the ever-changing nature of their industry. This avoids frustrating roadblocks during implementation, expansion, and updates.
Here are nine things to look for when selecting an RCM automation provider.
Health systems need to partner with forward-thinking AI and automation vendors who not only have the tech but also the healthcare expertise. This can help overcome many challenges and implement cutting-edge solutions that work smoothly and efficiently alongside their current tools — without disrupting their workforce and processes.
EHR systems update every few months (and can take a couple of months with each revision), breaking regular RPA bots. Tech stacks need to keep up, and bots need to upgrade accordingly. This can be daunting for providers who assume that a solution tied to EHRs will upgrade automatically. Most don't. We built AKASA with this in mind. Our AI automatically adjusts to EHR updates and other system and portal changes in real time, so the work gets done.

~ Shankar Rao, Engineering Manager for Client Solutions at AKASA
Challenge #2: Identifying the Right Decision-Makers
Bringing in new solutions is never easy — for the technology vendor or the healthcare provider. One challenge for both sides: figuring out the right stakeholders.
Who needs to approve and sign off at different stages? It's not easy getting the right people in the room and understanding who the actual decision-maker is when multiple people and departments are involved.
External vendors may not understand the nuances of the organization's structure. And it can be confusing for even internal teams, as they need to collaborate across various departments to vet and bring in new technology partners.
Many healthcare organizations don't have a clear roadmap of who to speak with to gain approvals and access their systems to start implementation. It makes the beginning of a partnership much slower than knowing upfront who key decision-makers are for certain things. A roadmap of personnel would be ideal, so you can have the right people in the room from the onset — on both the client and vendor sides — to get started and deliver value faster.

~ Shankar Rao, Engineering Manager for Client Solutions at AKASA
There are so many formal review processes, approvals, and clearance protocols at health systems and hospitals that slow down the pace at which they can bring in the latest tech. Onboarding and deployment can take weeks and even months — and that's after a chosen automation vendor has jumped through the necessary hoops just to get their seat at the table.
While these rigid protocols and approval processes have their place and are important for some scenarios, health systems would certainly benefit from making them clearer and more streamlined for technology vendors. This would accelerate the implementation of new and innovative solutions that will bring tremendous value to their healthcare organization in the short and long term.
And it's not just the initial decision-making process that gets delayed by this confusing series of checks and balances.
Health IT staff often have ownership over system access rights that are essential to a successful rollout. Oftentimes, these individuals aren't brought into the loop until after the partnership has begun — leaving them in the dark on why a vendor requires access and for what. As a result, they can be hesitant to give the necessary authorization to access their data and systems, delaying rollout even further.
To overcome this challenge, it's important that all stakeholders and decision-makers — from the health system and technology vendor — are brought early into conversations and align upfront on what resources and actions are required from each party. Whether it's making decisions about the scope of work and what tasks to automate or giving system access in a timely manner, everyone should be clear on what is required from them, why, and when.
This will ensure a smooth and fast implementation process and a successful partnership.
Challenge #3: Navigating HIPAA, Compliance, and Security Policies
This is another challenge that healthcare organizations — mainly their IT and security teams — and technology vendors must manage.
Health IT teams must protect PHI at all costs. As a result, they need to have strong internal security measures and protocols in place and carefully vet any potential third-party vendor according to industry regulations and compliance standards.
This can sometimes mean rejecting vendors and their advanced technology if they don't demonstrate the appropriate administrative, technical, and physical safeguards to keep PHI secure.
On the other side, technology vendors who want to partner with health systems have to understand the importance of security certifications like HITRUST and laws like HIPAA, and they need to work diligently to maintain compliance. Acquiring — and maintaining — a variety of security certifications and building a HIPAA-compliant technology infrastructure is not an easy task and requires lots of discipline from healthcare technology vendors. However, it's critical for forming trusted and successful partnerships with health systems and hospitals.
Most security certifications have extensive frameworks requiring vendors to comply with high standards across data segregation, network protection, risk and incident management, and many other domains. These compliance requirements are monitored on an ongoing basis as part of the certifications themselves. Most people don't understand that the certification lasts only as long as you maintain compliance. It's not like you have to show compliance once and are done. It's a very thorough, strict, and ongoing process to keep these security certifications, so they're a great indicator for health systems of whether or not a vendor is truly serious about and committed to protecting their PHI.

~ Shankar Rao, Engineering Manager for Client Solutions at AKASA
When working with the right automation partner who puts in the work to comply with the highest industry security standards, health IT teams can rest assured that their technology has robust security and data protection measures to keep their patient data safe at all times.
We understand the importance and sensitivity of the patient data we touch as part of the revenue cycle. At AKASA, we take security — and in turn the security of our clients and their patients — very seriously. By making it our top priority, we protect not only our business but also the availability, integrity, and confidentiality of PHI.

~ Andy Atwal, Vice President of Engineering and Co-founder of AKASA
Finding an Innovative RCM Automation Partner
When a healthcare system wants to focus on innovation and use leading-edge technologies, the processes can be complicated. Integrating with existing EHRs and legacy platforms, navigating complex workflows and approval processes, and complying with security standards are all critical for innovation. And for successful RCM automation.
Complex challenges require innovative solutions. AKASA takes an innovative approach to RCM automation, combining AI and machine learning with deep rev cycle expertise.
Our AI-driven Unified Automation® platform integrates with EHRs so you don't have to worry about changing your existing IT infrastructure or disrupting staff workflows. We simply work on top of your established architecture, automating time-consuming and tedious revenue cycle tasks to allow your staff to focus on more revenue-generating and patient-facing needs.
We're also committed to data security and compliance and prioritize protecting the availability, integrity, and confidentiality of your data. Our platform is HIPAA-compliant and built upon a foundation of the highest industry security standards, including HITRUST, SOC 2 Type 2, and NIST CyberSecurity Framework.
Embracing the latest technology doesn't have to come with compromises on current processes, infrastructures, data security, or other factors.
If you're ready to overcome these and other challenges that have been holding you back from incorporating the latest technology and optimizing your healthcare operations, schedule a consultation to learn more about our RCM solutions.
Let's embrace innovation and eradicate the barriers that prevent many health systems from unlocking new levels of operational efficiency and productivity.