As the pandemic public health emergency (PHE) comes to a close, hospitals and health systems will be forced to grapple with the end of many flexibilities, including Medicaid eligibility — leaving millions of Americans uninsured.
On April 1, 2023, states will be forced to return to pre-pandemic policies and determine who is eligible for Medicaid and who is not. The Robert Wood Johnson Foundation estimates this has the potential to leave up to 18 million people without healthcare coverage.
In Q1 2022, the national uninsured rate reached an all-time low of 8%. Yet with the revert back to redetermination, rates could increase.
Estimates from the U.S. Department of Health and Human Services show approximately 9.5% of Medicaid enrollees, or about 8.2 million, will lose Medicaid coverage due to loss of eligibility.
For hospitals, redetermination will lead to no-shows, failed eligibility checks, eligibility denials, and bad debt. On top of this, already overwhelmed revenue cycle staff will have to contend with the increased administrative burden.
Hospitals must quickly prepare to address the inevitable effects of Medicaid unwinding. With margins already low and many hospitals at risk for consolidation, they simply can't afford an additional negative impact to their bottom line.

~ Amy Raymond, VP of Revenue Cycle Operations at AKASA
The Effects of Medicaid Eligibility Redetermination
Since early 2020, Medicaid and Children's Health Insurance Program (CHIP) enrollment has seen a significant uptick. A recent report from the Kaiser Family Foundation found that enrollment increased to 91.3 million — up 28.5% since February 2020.
The Medicaid unwinding was originally slated to occur with the end of the PHE on May 11, 2023. Yet in December 2022, the Consolidated Appropriations Act, 2023 decoupled the Medicaid continuous enrollment provision from the PHE, and allowed states to begin Medicaid disenrollments starting April 1.
States now have up to 12 months to complete the redetermination process.
Additionally, the federal government will decrease the Medicaid matching rate — the federal medical assistance percentage (FMAP) — from 6.2 percentage points due to the PHE to:
5.0 in April-June
2.5 in July-September
1.5 in October-December
By January 1, 2024, the FMAP will be completely phased out.
Hospitals that rely on Medicaid funding to serve low-income populations, particularly those in rural areas, will have to brace for the impact on already lagging operating margins.
More than 600 rural hospitals, nearly 30% of all rural hospitals in the United States, are at risk of closing in the near future, a report Center for Healthcare Quality and Payment Reform found.
Medicaid Administrative Churning Will Exasperate Loss of Eligibility
In addition to patients who will lose Medicaid due to eligibility, 7.9%, or 6.2 million enrollees, will also lose coverage due to administrative churning. 
Administrative churning is the loss of coverage despite ongoing eligibility due to:
challenges navigating the renewal process
states unable to contact enrollees due to change of address
other administrative issues
While it seems straightforward enough for enrollees to quickly regain coverage, experts say it's likely that hospital caseworkers will be overwhelmed by re-enrollments and retro-enrollments, which will increase the administrative burden and lead to bad debt.
As hospitals continue to struggle with lean revenue cycle teams and staffing issues, coping with redetermination will prove challenging.  Those that deploy AI-powered automation, however, will have extra resources, experience greater efficiency and prevent revenue loss.

~ Amy Raymond, VP of Revenue Cycle Operations at AKASA
AKASA Eligibility & Coverage Check and Eligibility Denials Resolution
When Medicaid unwinding goes into effect, there's no doubt hospitals and health systems will experience an increase in no-shows, failed eligibility checks, and eligibility denials.
Patient access teams will need to check eligibility upfront to verify coverage, and business office teams will need to track eligibility denials that can be addressed retroactively after patients re-enroll in Medicaid.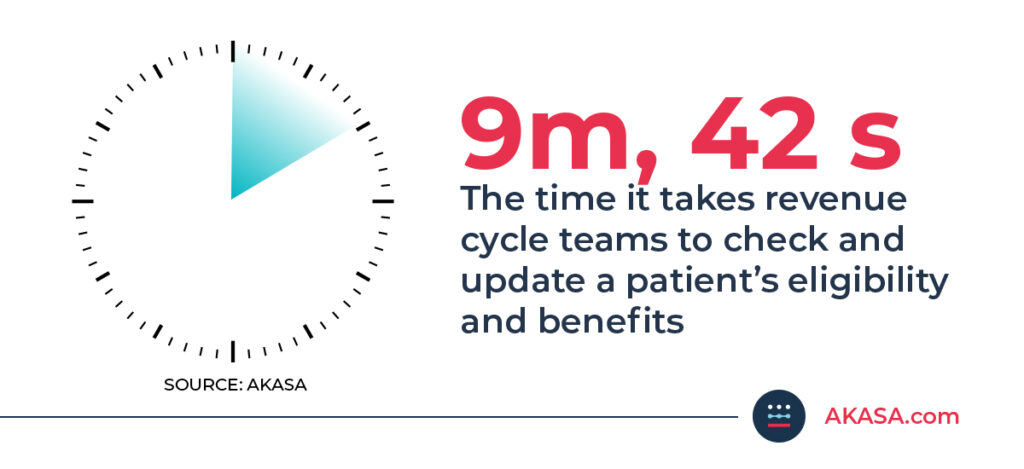 These processes are time-consuming — almost 10 minutes per encounter — and the administrative load will tax already overburdened revenue cycle staff.
AKASA Eligibility & Coverage Check, powered by our Unified Automation® platform, automates eligibility verification for patient access teams. Our AI reviews scanned insurance cards and existing coverage records to run eligibility and update any errors or missing details, increasing registration accuracy. Our automation searches top payer portals and uses your insurance discovery tool to find coverage when an eligibility verification fails.
AKASA Eligibility Denials Resolution optimizes denials management for business office teams. It analyzes denied claims, verifies eligibility, makes corrections as needed, and rebills payers.
With AKASA, providers can:
Verify patient coverage more efficiently
Ensure timely resubmission to payers
Resolve denials and increase recovery
The result: less rework, fewer denials.
To learn more about how AKASA can help you improve efficiency for your revenue cycle team, schedule a free consultation today.