More than 95% of healthcare providers anticipate making new software investments in the next year, according to a new report from KLAS and Bain & Company. Revenue cycle management is the top investment priority.
With the rise of prior auth requirements, ongoing staffing challenges, and difficult margins for health systems, it's clear why organizations are investing in RCM automation technology. While many solutions exist, finding one that fits your organization is easier said than done.
Amy Raymond, VP of revenue cycle operations at AKASA, sat down with Cari Benshoof, director of patient access at University Health, at the 2022 Oracle Cerner Health Conference to discuss this very issue.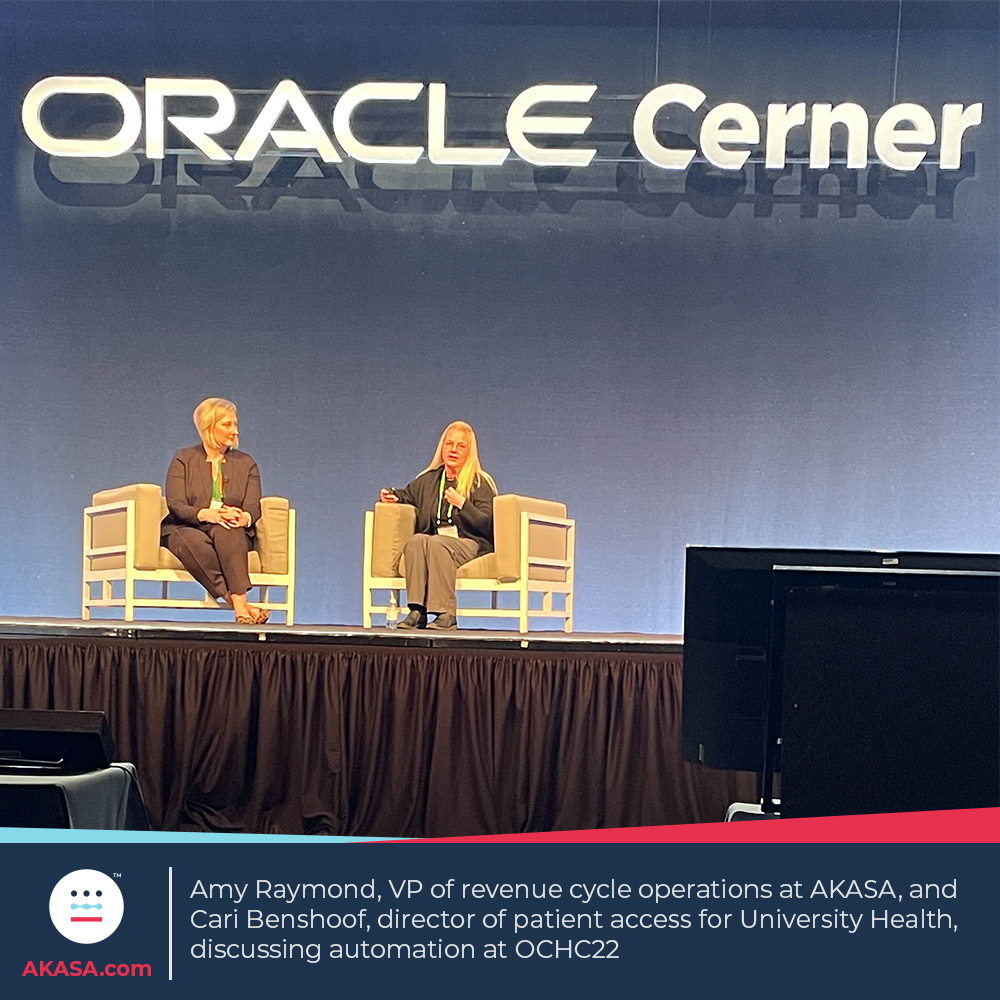 During the OCHC22 session, Raymond and Benshoof discussed the evolution of technology and automation, University Health's own journey to automation, lessons learned along the way, and why working with AKASA (the Cerner-prefered automation solution) made the implementation process even more appealing.
University Health's Journey to Automation
University Health is located in Kansas City, Missouri. A safety net hospital for the city, University Health handles roughly 1,200 trauma cases annually, serves as the birthing location for nearly half of the babies in Kansas City, and employs 4,500 staff members.
University Health cares for a high population of Medicaid patients and has a high self-pay population, especially compared to other health systems in the area. Benshoof and her team knew the Medicaid expansion was coming and knew this expansion would bring with it a growing workload.
It's incredibly difficult to find sufficient staffing for RCM in the current climate. With the impending Medicaid expansion, Benshoof and her team quickly realized they'd need RCM automation to help UH keep afloat.
But first, they'd have to choose an RCM automation vendor that fit their organization.
With Medicaid comes additional steps, especially because with the new expansion group, they were also going to be assigned to a managed care plan. We all know managed care plans have additional hoops and things that you have to jump through in order to get paid. We knew that our notice of admissions were going to increase. We knew that our prior authorizations were going to increase. And we knew that we were going to have a need for better eligibility processes, in general, to make sure that the right plan actually got loaded so that we could get that claim billed out the door.

~ Cari Benshoof, Director of Patient Access at University Health
The Rise of RCM Automation
The healthcare industry has been no exception to the wave of technology and automation that's now commonplace in other industries. From automated prior authorizations to virtual appointments, technology's role in healthcare is ever-evolving — with no sign of slowing down.
There has been a technological evolution as well within revenue cycle automation. What began with traditional RPA has, by necessity, advanced into more robust technology such as artificial intelligence (AI) and machine learning (ML) that can better accommodate the complex and changing nature of the revenue cycle.
The basis of automation is RPA. We liken RPA to cruise control. You can set it, and it works within very specific parameters. Now we can layer in AI-powered automation, which provides intelligence but can still lack responsiveness and resiliency. The most advanced type of automation we talk about is RPA with AI, ML, and a human. Or as we call them, our experts-in-the-loop. Adding in the AI — but specifically an ML portion of AI — results in more resilient automation.

~ Amy Raymond, VP of Revenue Cycle Operations at AKASA
This advancement in RCM automation is largely the result of traditional RPA's limitations. While RPA is great for linear tasks, it breaks whenever it encounters an outlier. More advanced automation, such as that using AI and ML, is capable of adapting to changing workflows and learning as it goes.
For example, AKASA has combined AI and ML with RCM expertise to create a solution that covers all the bases. This allows our automation to navigate changing workflows, learn from outliers and edge cases, and get more efficient and accurate as it goes. Most importantly, this advanced automation allows RCM staff to focus on more challenging, revenue-generating tasks — something Benshoof aimed to do with her team.
There are still some payers we have to make a phone call to. There's still faxing that we have to do in certain circumstances. That has to be done by a person. We wanted to focus our attention on those things that could be automated, things that were available within the payer portal, and then let them focus in on the things that really only they could do and those more challenging situations.

~ Cari Benshoof, Director of Patient Access at University Health
4 Lessons On Choosing an RCM Automation Vendor from University Health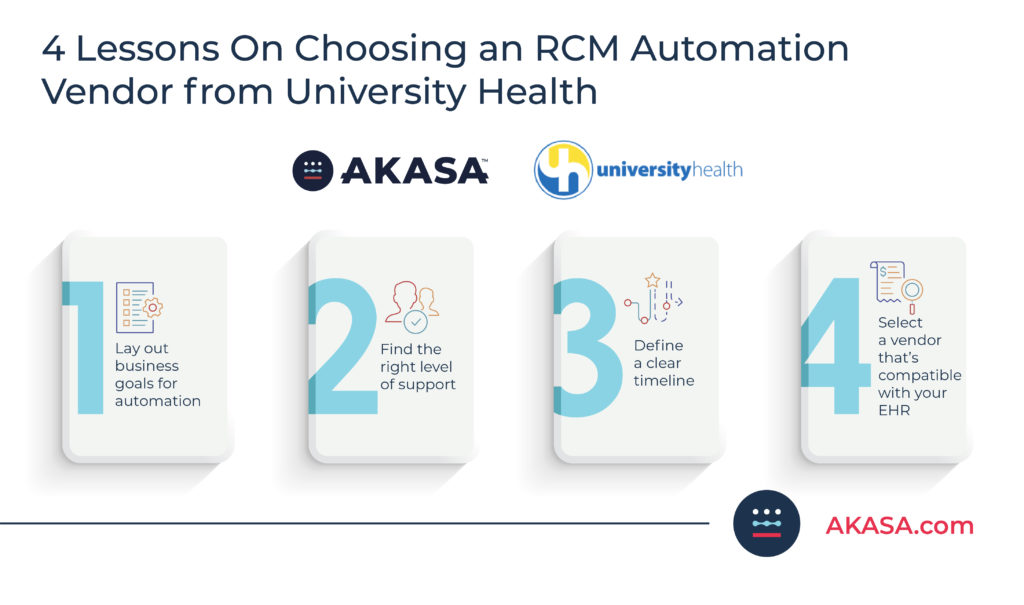 In an industry inundated with RCM automation vendors, choosing the right partner can be overwhelming. There are lots of vendors, each with its own approach and each with varying capabilities.
RCM automation is an investment. As with any investment, you must do the preparation and research to ensure the best choice is made for your organization to get the most ROI.
Below are a few considerations University Health discovered when starting their journey to find an RCM automation solution.
1. Lay out business goals for automation
Once you've identified a need for automation, it's important to know your goals for the automation. Are you looking to increase yield? Decrease A/R days? Improve efficiency? Better utilize staff? You also need to assemble a core evaluation team for the process. At University Health, that team included the vice president of revenue cycle, director of patient access, director of patient accounting, chief financial officer, and CEO. This streamlined decision-making, enabling the automation process to move faster.
It's important to have goals in mind that your internal stakeholders are aligned on. And then discuss those goals early on with any prospective vendors. If the vendor's automation lacks the capabilities to help you achieve your goals, or they don't offer the holistic services you're looking for, you won't get the full value of RCM automation.
We did have an easy story to sell for sure in that we knew our volumes were increasing, and our goal was to not increase staff. We did not have a goal of decreasing staff. We just wanted to make sure that they had work that was challenging — instead of the repeat, mundane routine work.

~ Cari Benshoof, Director of Patient Access at University Health
2. Find the right level of support
A key aspect of the automation journey is choosing a partner who actively supports and communicates with you throughout the process. And will help with any challenges that arise. The automation journey can be lengthy and complex, with lots of questions along the way.
If an automation vendor leaves you with most of the support and implementation process, you're looking at additional downtime, workflow interruptions, and costly IT or consulting fees whenever things break.
3. Define a clear timeline
A clear timeline for automation is key for a successful rollout. And it's essential the automation vendor is on the same page regarding that timeline. If you know you need automation by a certain point, find a vendor that's capable of meeting that timeline and hold them accountable.
University Health knew of the Medicaid expansion, so timely automation was key to ensuring their system wasn't overwhelmed.
4. Select a vendor that's compatible with your EHR
Hospitals and health systems may merge or leadership may decide to change technologies. Choosing a vendor whose solution can adapt to those changes and work with multiple EHRs is important to avoid downtime in the revenue cycle.
There's also the rare opportunity to choose an RCM automation vendor that's partnered with your preferred EHR — as AKASA has with Cerner.
The Benefits of Cerner's Collaboration With AKASA
Oftentimes, recommendations are sought out to help make the vendor decision. In the case of University Health, the recommendation came straight from Cerner — a trusted, top EHR for hospitals and health systems for more than 40 years. As of 2022, AKASA is the Cerner-prefered automation platform.
This AKASA and Cerner collaboration allows for even stronger support for Cerner customers and a tighter relationship with more interoperability than most RCM automation vendors can provide.
One of the things that we wanted to make sure that we had is a partner who could work through the challenging workflows that we decided to choose to start off with. But then also someone who could accommodate those changes with the payers and with Cerner. We are all Cerner clients, so you all, I'm sure, have experienced the day when you walk in and think, 'Oh my goodness, revenue cycle looks a little different today than it did yesterday.'

~ Cari Benshoof, Director of Patient Access at University Health
The AKASA Unified Automation® platform uses a unique combination of technology, including AI and ML, backed by a team of dedicated RCM experts. If the automation runs into a new challenge it can't confidently handle, it flags it to our team of experts. They step in and complete the work while also training the technology. The work never stops, and the automation only gets more efficient over time.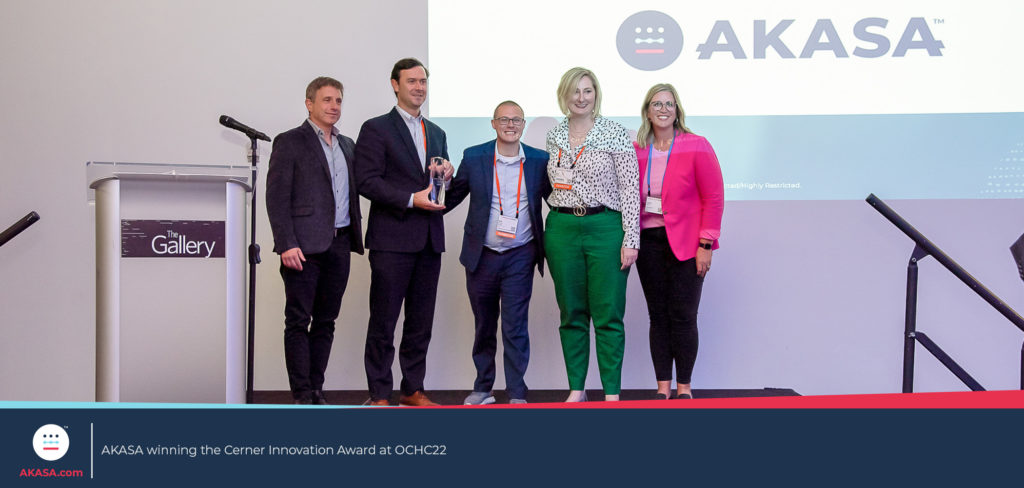 Cerner clients also get the added benefit of additional support, as Cerner ITWorks team members are a part of weekly meetings with AKASA as well. This ensures alignment between both parties — a key component to achieving your organization's automation goals.
Are you an existing Cerner customer? Learn more about our collaboration and what this means for you.
Being able to have that direct connection with the partner that you're working with is really important. As is being able to get a fast response from them. Having our Cerner partners involved in that and included in those meetings was really helpful as we moved through those different speed bumps and things that we would come across throughout the project. It helped us try to resolve those a little bit more quickly.

~ Cari Benshoof, Director of Patient Access at University Health
At AKASA, we're thrilled to help University Health improve their revenue outcomes, achieve greater efficiency, and elevate their people. Whether you're an existing Cerner client or not, our automation is capable of helping you do the same.
Ready to start your own automation journey? Schedule a free consultation and see how AKASA can help your organization improve your revenue cycle.