Healthcare RCM automation is increasingly common. In just one year, automation use in healthcare jumped 10%, with 78% of healthcare systems using or in the process of implementing automation in the revenue cycle. And there's a good reason for that — staffing challenges remain constant while healthcare demands continue to stress organizations.
According to a survey conducted by McKinsey Global Institute, healthcare providers in the United States could see a 30% job demand increase by 2030. But this doesn't mean staffing challenges are poised to disappear by then.
60% of providers have 100+ spots to fill in healthcare operations and 20% need to hire 30+ employees to staff their revenue cycle departments fully.
With labor shortages prominent, healthcare organizations must utilize current RCM staff as best as possible — especially if you want to achieve your operational goals. Automation is critical here, as it allows your current staff to focus on more high-value tasks, including ones they previously didn't have time to touch.
"Staffing is one of the most critical challenges RCM teams face right now. To be successful, you need to elevate your people so that they're working on more interesting and revenue-generating projects. Automate the rest."

~ Amy Raymond, VP of Revenue Cycle Operations at AKASA
While RCM automation allows your team to do more meaningful, impactful work, it also elevates your team and organization as a whole in a number of additional ways.
Streamlines Productivity
One of the most obvious benefits of RCM automation is its ability to streamline productivity. You can improve productivity from the front desk to the back office by offloading manual, repetitive, and time-consuming tasks from your team and shifting their time to more complex, high-value, and meaningful work.
The revenue cycle is rife with time-consuming tasks, many of which are repetitive. Things like status checks and claim edits aren't a great use of RCM staff time, but they're ripe for automation.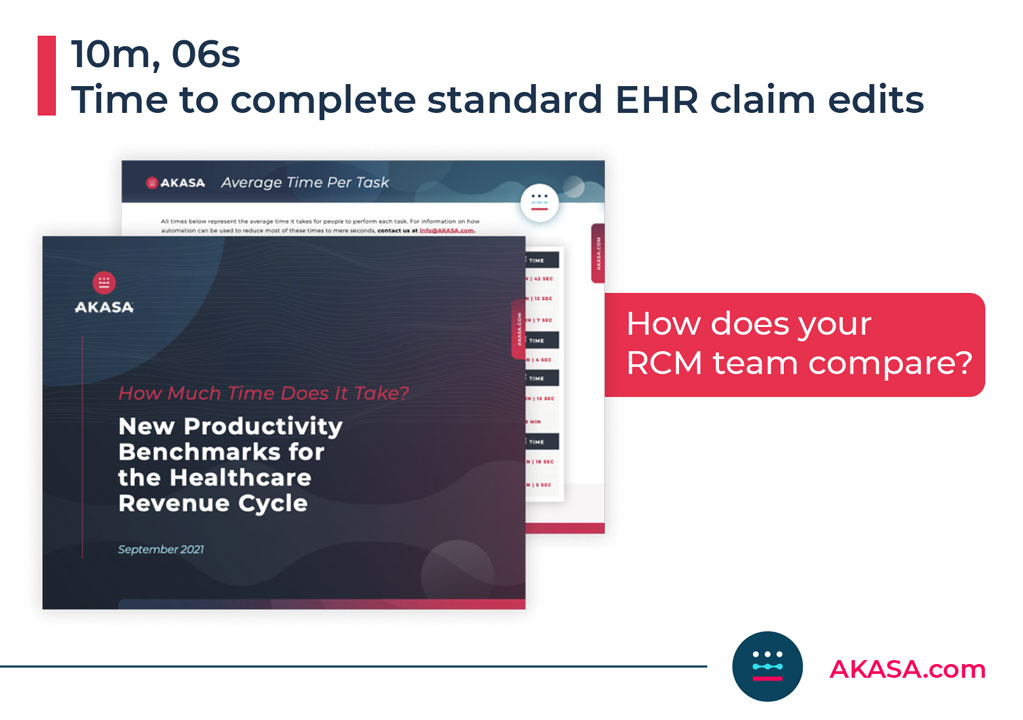 Many of these RCM processes are simple, things your staff complete numerous times each day. But they add up. How many claim edits do you think your average specialist completes each week? Now multiply that by 10 minutes. Meanwhile, automation can take care of that in a fraction of a second.
For example, our very own automation at AKASA has helped numerous organizations save valuable time by streamlining repetitive tasks:
Nebraska Methodist Health System: Saved 1,800+ hours per month automating claims
Montage Health: 300+ hours per month saved by automating 97% of claim status workflow
MediRevv: 1,200+ claims automated per month
These results go beyond time savings. With Methodist, 71.3% of claim status tasks were removed from the staff queue. This is the equivalent of nearly 14 full-time employees, which allowed existing Methodist staff to focus on proactively checking claims, correcting edits, and obtaining more timely prior authorizations. Focusing on this efficiency opens the door to better patient access and faster reimbursement.
By allowing automation to free up more time, patient-facing employees can also focus on developing better relationships with patients, whose satisfaction is a leading driver of referrals, increased satisfaction scores, and increased revenue for healthcare organizations. But the patient benefits don't end there.
Enhances the Patient Experience
Another benefit of automation? It helps you enhance the patient experience by giving your staff the bandwidth to engage more with patients and create a better overall experience.
Whether you want to better serve your community, expand your reach, boost your organization's revenue, or any combination of the three, patient experience plays a big role. If your organization delivers a poor patient experience, engagement will dip, competing providers will benefit, and profitability will take a hit.
Unfortunately, delivering a quality patient experience — already no small feat — is more difficult than ever. With RCM departments insufficiently staffed, healthcare growing more complex, and rising healthcare demands, it's easy for the patient experience to take a backseat to tasks with a clear link to revenue.
With automation taking time-consuming tasks off your team's plates, even an understaffed team can aspire to focus more on the patient experience. These time gains can translate to more face time with patients, more emphasis on financial consulting, and more time ensuring bills are accurate. More time also allows your team to implement other time-saving processes and tools that ultimately benefit the patient.
Improves Employee Engagement
In healthcare, your employees are your most important resource. Their passion is what makes everything possible. Automation can help you improve their engagement, satisfaction, and retention by re-adjusting their workloads, reducing burnout, allowing them to work at the top of their skill set, and empowering them to do the work they love.
Fully staffing your RCM team is hard enough in today's healthcare climate. It's critical that you hang on to the team you have. Yet employee engagement is a low 36% across the board, and burnout among clinicians is at 62.8%. This means there's a good chance you have disengaged or struggling people on your team.
Driving employee engagement in RCM is more important now than ever before.
Many RCM specialists want the opportunity for upward mobility. Delivering this isn't feasible when your team's dealing with menial revenue cycle tasks — tasks automation can take off their plate.
"The revenue cycle isn't known for giving people many growth opportunities. You could have staff with decades of experience, who have been doing the same exact tasks that entire time. This is fine for some people. But what about those highly-skilled individuals who want the chance to really flex their knowledge and make a bigger impact? If we want to hang onto the teams we have and fully utilize their talents, we need to provide opportunities for growth."

~ Amy Raymond, VP of Revenue Cycle Operations at AKASA
By automating away the busy work, you can give your employees the chance to work on more engaging, challenging work. This also provides the opportunity for upward mobility, which can help drive engagement as well.
Your team gets to learn and grow, and you have a team that's more likely to stay. It's a win-win.
If you want your team to succeed, engagement needs to be your number one priority right now.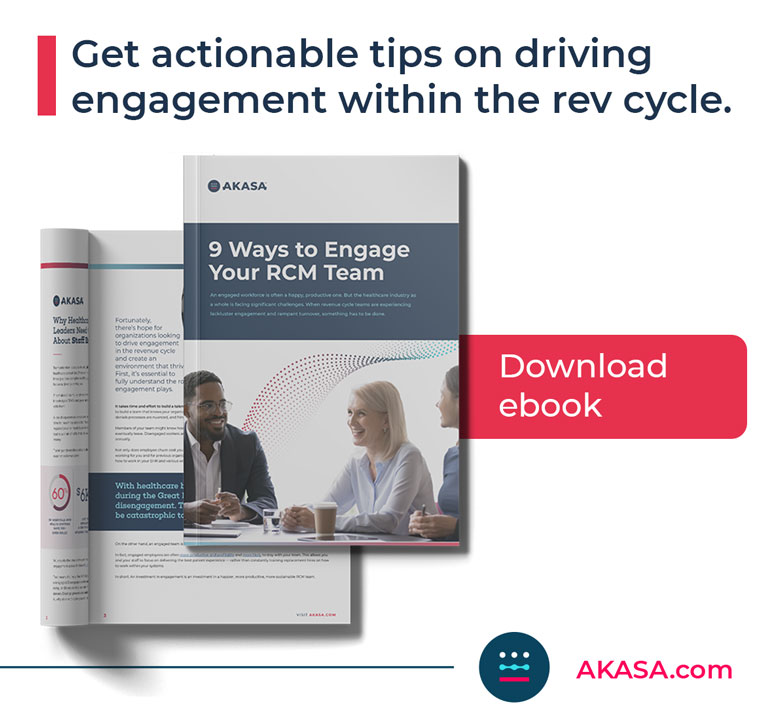 Elevate Your Team With AKASA Automation
In order to take full advantage of RCM automation's benefits, you need the right automation. But not all automation solutions are equal. Many overpromise and underdeliver, while others are limited in capabilities and efficiency.
AKASA automation was built from the ground up with healthcare RCM in mind. Combining AI, machine learning, and a dedicated team of revenue cycle experts, our automation can navigate the complex workflows of the revenue cycle. This allows us to help your team save time, whether they're tackling claims, managing prior auth, or trying to juggle ten payers at once.
"Payer changes around preauthorization requirements and increased demand to schedule diagnostic procedures as soon as possible is driving significant volumes for financial clearance. Hiring to handle these volumes can be challenging and isn't always the most strategic solution. Machine-learning-based technologies, such as AKASA, have been critical to ensuring our teams can provide rapid turnaround for verifying eligibility and covered benefits, and securing an authorization."

~ Cynde McCall, Director of Patient Access and Health Information at Nebraska Methodist Health System
Elevate your RCM team to new heights with automation from AKASA. Schedule a demo and see how we can help you create capacity and allocate resources where they matter most.