Many patients with high-deductible health plans report having a negative experience regarding billing estimates and medical debt
South San Francisco, Calif. – January 19, 2023 – AKASA™, the leading developer of AI for healthcare operations, released findings from a survey ​​conducted on its behalf by YouGov. The findings highlight how patients with high-deductible health plans (HDHPs) suffer the downstream effects of a complex medical billing process, including surprise medical bills, inaccurate estimates and financial hardship.
More than 2,000 Americans were asked: A surprise medical bill is a term commonly used to describe charges arising when an insured individual inadvertently receives care from an out-of-network physician. Have you ever received a surprise medical bill?
50% of individuals with employer-sponsored HDHPs said they have received a surprise medical bill before.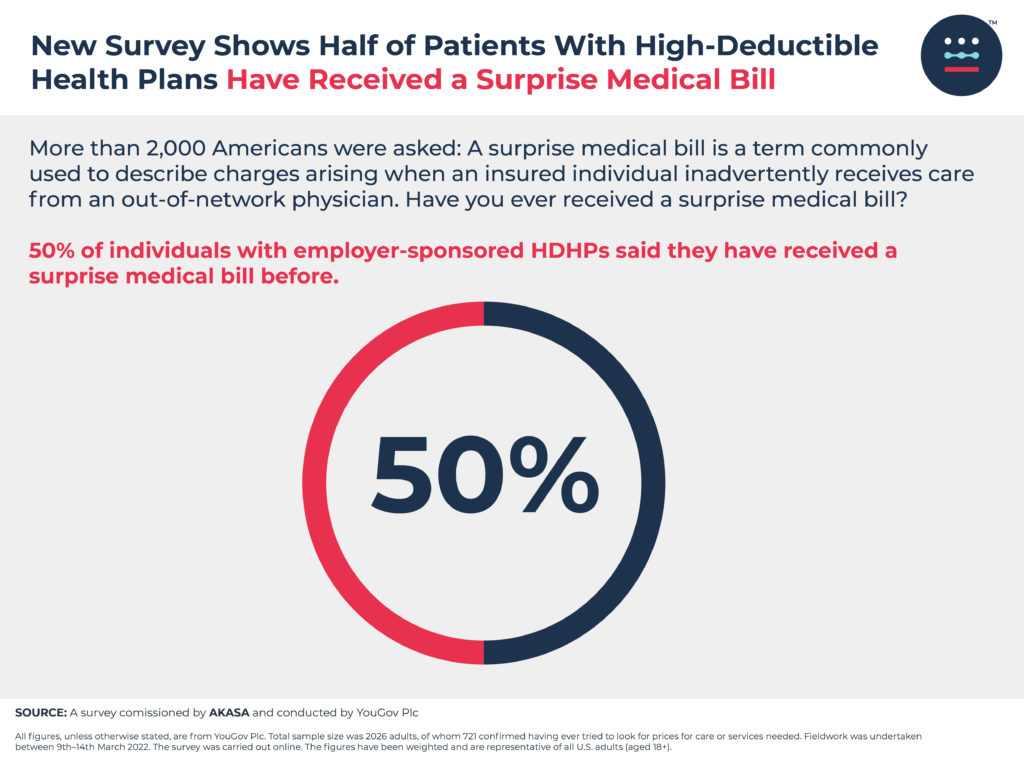 Respondents were also asked: "Have you ever received a medical bill that did not match the upfront price estimate for care or services needed?"
53% of individuals with HDHPs said they received medical bills that didn't match up with price estimates provided.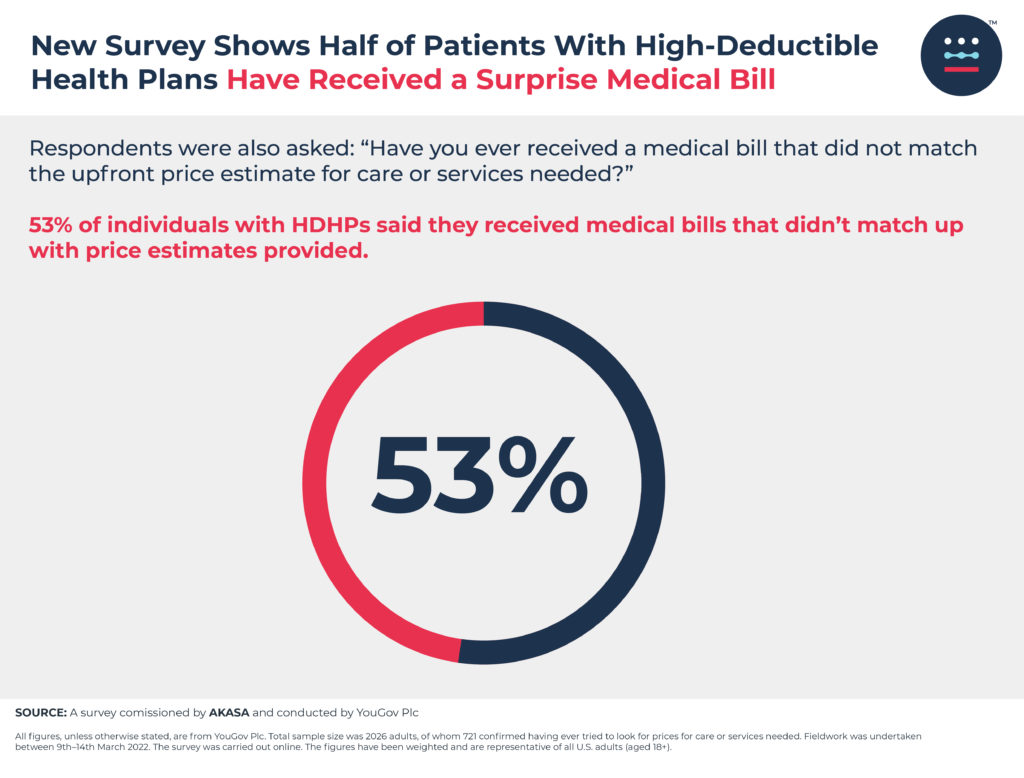 "Surprise medical bills are never pleasant, leaving patients with financial burdens they didn't expect," said Amy Raymond, VP of revenue cycle operations at AKASA. "Often, these bills go unpaid, too, which impacts the patient's credit, and costs the healthcare system. With healthcare systems often struggling to find enough funding as is, surprise medical bills are a lose-lose for everyone involved."
In terms of medical debt, respondents were asked: "Have you ever been harassed by a debt collection agency on a medical bill?"
34% of individuals with HDHPs said they have been harassed by a medical debt collector before.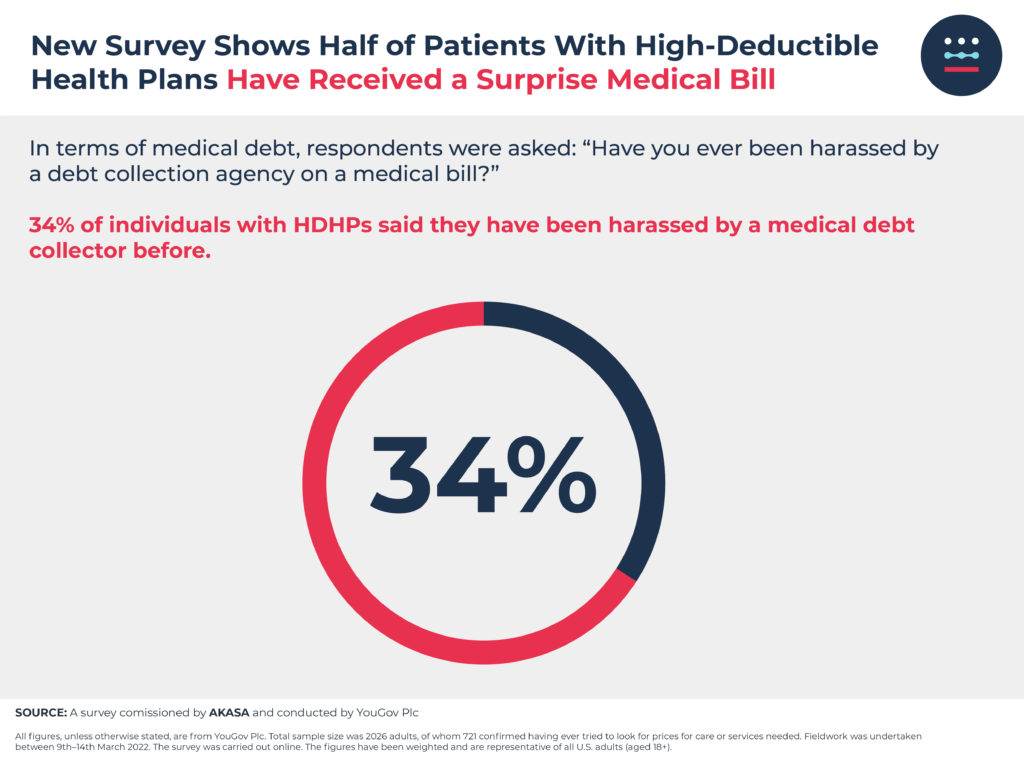 The survey also asked: "Have medical bills caused you financial hardship?"
44% of individuals with HDHPs said they experienced financial hardship from medical bills.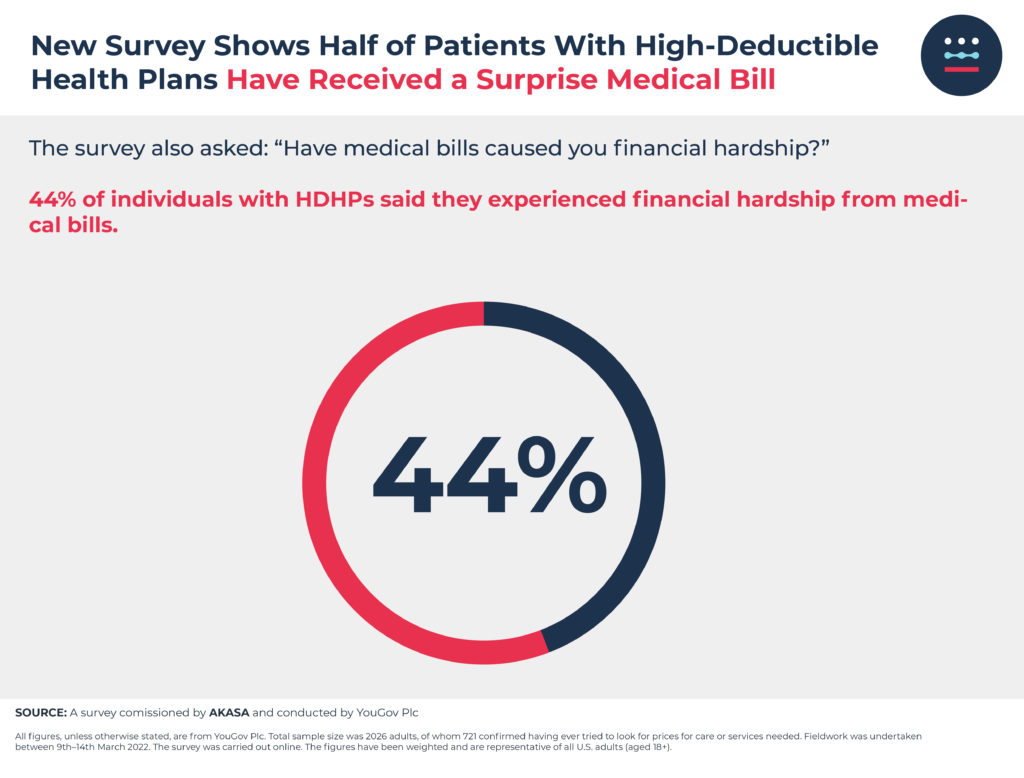 "Enrollment in high deductible health plans grew 43% from 2014 to 2019, and with it has come a similar rise in patient responsibility for payments," said Raymond. "With high health insurance premiums, deductibles, and cost of care, patients are shouldering more of the financial burden of healthcare. This has led to increasing rates of bad debt for hospitals and health systems. Providers must modernize their systems with options that drive more consistent patient behaviors in paying for services."
"As hospital bad debt is an increasing detractor for revenue cycle departments everywhere, a streamlined financial clearance process with automation can combat this," added Raymond. "Through automation technology, the upfront financial clearance work can be done instantly and accurately every time, facilitating a proactive and patient-friendly conversation to set expectations upfront. Organizations can calculate an estimate of the costs to understand better what a patient's balance will be — and increase the likelihood that they will pay or get access to financial counseling if necessary."
The YouGov survey, commissioned by AKASA, fielded responses from 2,026 Americans between March 9–14, 2022. The online survey was conducted at a confidence level of 95% and results for the total sample have a margin of error of +/- 2.18%, while results among those who have sought prices for healthcare services have a margin of error of +/-3.65%. The figures have been weighted and are representative of all US adults 18 and older.
Survey Methodology
All figures, unless otherwise stated, are from YouGov Plc. Total sample size was 2026 adults (of whom 179 indicated having employer-sponsored high-deductible health plans). Fieldwork was undertaken between 9th–14th March 2022.  The survey was carried out online. The figures have been weighted and are representative of all U.S. adults (aged 18+).
About AKASA
AKASA is the leading developer of AI for healthcare operations. AKASA scales human intelligence with leading-edge AI and ML securely trained on customer data to learn unique systems, continuously adapt to changing environments, and deliver comprehensive automation and analytics for complex workflows. The result is a seamlessly integrated, customized solution that reduces operating costs, frees up staff to do the work they love, and helps health systems allocate resources to where they matter most. AKASA has a work-from-anywhere attitude and we are hiring. Step into the future of healthcare with AKASA. Learn more at AKASA.com.