Revenue integrity in healthcare is a concept that has increasingly been gaining traction in recent years — and rightly so. Hospitals, health systems, and healthcare organizations have had to contend with rising patient volumes, slim operating margins, and a median cost to collect of 3.3% net patient revenue that has plateaued — mostly because of increased labor spend.
And in the wake of COVID-19, these challenges show no signs of slowing down. Between September and October 2021, median operating margins fell 12.1% and total labor expenses increased 2.7%, according to KaufmanHall's National Hospital Flash Report.
Additionally, with the move towards value-based care, which has been accelerated by the pandemic, revenue integrity will continue to be a focus for hospitals and health systems and their revenue cycle leaders.
"Healthcare revenue integrity, or clinical documentation integrity, is often thought of as a coder-related matter. And to a point, it is. Revenue integrity is all about checking documentation to ensure things were coded properly. Did physicians hand over the right info to code? Was the info then coded properly? But, at the end of the day, revenue integrity is all about quality and ensuring the patient is billed accurately."

– Amy Raymond, VP of Revenue Cycle Operations at AKASA
First, let's look at what healthcare revenue integrity is, examine goals and KPIs, and explore ways to implement a revenue integrity program and automation solution within healthcare operations.
What Is Healthcare Revenue Integrity?
Healthcare revenue integrity is the auditing, active monitoring, and training of clinicians to ensure the appropriate level of care or service is billed to the patient. The healthcare revenue integrity process involves coding review, clinical documentation improvement/clinical documentation integrity (CDI), and physician education as a secondary result of CDI activities.
The National Association of Healthcare Revenue Integrity (NAHRI) considers revenue integrity:
"…to prevent recurrence of issues that can cause revenue leakage and/or compliance risks through effective, efficient, replicable processes and internal controls across the continuum of patient care, supported by the appropriate documentation and the application of sound financial practices that are able to withstand audits at any point in time."
Healthcare operations and the healthcare revenue cycle are complicated and challenging, with gaps in every area, department, process, and function — gaps that are inevitable.
The front desk doesn't get the right demographic or insurance information
Doctors fail to accurately document an encounter
Coders assign the wrong code to a claim
These are just some of the examples of gaps that often occur between patient access, mid-cycle, and the business office. Each of these gaps impacts healthcare operations, as well as clinical operations.
What's more, departments often work in silos, and the people, processes, and workflows rarely work seamlessly together.
Therefore, optimal revenue integrity is vital for any hospital or health system in the U.S. today that wants to thrive amidst slim operating margins, staffing shortages, and ever-changing regulatory issues.
The History of Healthcare Revenue Integrity
Revenue integrity has always been a priority, but with the move towards value-based care and risk-adjusted payment models in recent years, it has been more of a focus for hospitals and health systems.
In 2004, the Centers for Medicare & Medicaid Services (CMS) introduced hierarchical condition categories (HCCs), or sets of medical codes that are mapped to ICD-10 codes, or specific diagnoses, to assign risk scores to patients.
Payers use demographic information along with HCCs to assign patients a risk adjustment factor (RAF) score and, with algorithms, use the score to predict costs.
As a result of the introduction of HCCs, it became imperative that accurate coding and charge capture improved and, thus, the need for revenue integrity.
What Is the Goal of Revenue Integrity?
The goals of revenue integrity include improved efficiency, compliance, and reimbursements and payments.
Revenue integrity also enables a better understanding of patient outcomes, because it ensures accurate documentation and, in turn, an accurate portrayal of patients and the interventions delivered.
How that happens is through better charge capture and coding.
In the mid-cycle, where clinical care is provided, documentation from physicians or another type of provider is performed. Documentation can be handwritten or verbal notes that are transcribed into the electronic health record (EHR). The documentation then feeds into charge capture — or the process by which providers are paid for the services that were rendered.
The next step is for providers or health information management and coding staff to assign codes to the claims which reflect the diagnosis, procedures, and diseases.
Coding is an important step in the revenue cycle, but it's challenging because of the number of codes, the specific rules regarding the way codes are used and combined, and the specific documentation required to use certain codes.
Once coding is complete, the revenue cycle staff ideally translate the codes into charges, but the process by which that occurs may not always be a smooth one.
Without the right information, coders may have to run a provider query to get what they need. The coders may also have to make claim edits, or corrections, before the claim can be submitted to the payer. Like other processes and functions of the revenue cycle, claims edits can be inefficient.
With improved coding and charge capture, however, organizations can reduce compliance risks and see other KPIs, such as days in A/R and initial denial rates, improve. Also, they will likely have lower costs as a result of less time spent fixing errors and reworking claims.
Another goal of improved revenue integrity is to get the people, processes, and workflows seamlessly working together, which improves efficiencies and the patient experience.
What Are Healthcare Revenue Integrity KPIs?
Although revenue cycle key performance indicators (KPIs) are likely to improve with improved healthcare revenue integrity, there are some to pay closer attention to because they can help guide your team, ensure your efforts are worthwhile or allow you to make changes.
Coding accuracy and productivity
Coding accuracy means that the correct codes are captured for the services rendered and assigned to claims. Productivity is the percentage of claims coders can get out the door, but can vary according to provider.
For example, coders in orthopedic and pain management have the highest per-day average of claims coded (94 and 93 respectively), while others like otolaryngology have a low number of claims coded per day (26), a survey found.
Days Not Final Billed (DNFB)
DNFB is the length of time it takes to get a bill out the door and is an important measure to ensure timely filing limits are met. The better the coding and charge capture, the shorter the DNFB.
Initial denials
When insurance companies refuse to honor the request by a patient or a provider to pay for healthcare services, initial denials occur. The claims are submitted, received, and processed, but the insurance company denies reimbursement. Initial denials are among the top three measures of success healthcare revenue cycle leaders value the most, which comes as no surprise since denials are up 23% since 2016, a 2020 report found.
Healthcare Revenue Integrity: Benefits of Implementing a Strategy
Hospitals and health systems are looking for ways to improve healthcare revenue integrity. But many seem to struggle to get started.
A 2017 survey by the Healthcare Financial Management Association (HFMA) found that 22% of healthcare executives were focused on improving revenue integrity over the next year. However, only 44% said they had established a revenue integrity program.
Fortunately, those that implemented a revenue integrity program have seen results:
68% overall increase in net collection
61% overall gross revenue capture
61% reduction in compliance risks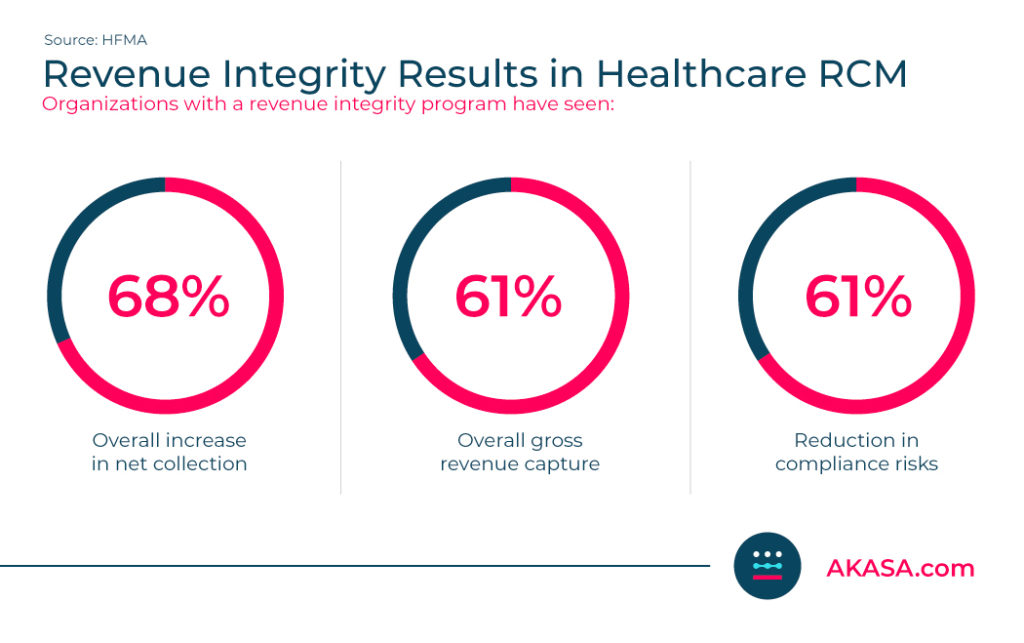 Some hospitals and health systems that are looking to improve revenue integrity are creating new positions and dedicating entire departments to revenue integrity because of its many benefits.
Programs can improve processes and workflows, and allow for a knowledge base to be developed so that providers, coders, and revenue cycle staff in all departments become more accurate and efficient.
Organizations that have revenue integrity programs can have a reduction in compliance risk, improved KPIs, lower costs, and increased revenue.
Revenue integrity programs can also help health systems identify overpayments and underpayments.
A 2019 report by HHS' Office of Inspector General (OIG) found that Medicare overpaid acute-care hospitals $54.4 million for inpatient claims subject to the post-acute-care transfer policy, a result of incorrect patient discharge status codes.
Plus, a report by the American Hospital Association found that in 2019, 63% of hospitals received Medicare payments less than cost and 58% received Medicaid payments less than cost.
A revenue integrity director can also coordinate efforts across a hospital or health system to improve documentation, coding, and charge capture, and enable better collaboration among all areas and departments within the revenue cycle.
How To Get Started With Healthcare Revenue Integrity
Although industry standards for revenue integrity programs don't exist,  the National Association of Healthcare Revenue Integrity (NAHRI) offers a Certification in Healthcare Revenue Integrity and provides resources and events for healthcare systems to learn more and get started.
Like any new program or initiative, it's important that you have buy-in from revenue cycle leaders and staff at all levels, as well as those from HIM, CDI, and Quality Improvement.
Talk about the importance of achieving improved efficiency and compliance, and driving revenue for your organization.
Also discuss how the lack of a revenue integrity program will continue to impact your organization and staff, including persistent audits, denials, and re-working claims, to name a few.
From there, you should define goals, identify gaps, devise a strategy, develop best practices, take a look at your resources, and understand how you will measure success.
How Automation Can Improve Healthcare Revenue Integrity
Although a revenue integrity program is a good first step, many hospitals and health systems are looking to AI-enabled automation solutions to drive efficiency, keep up with compliance demands, and increase revenue. Automation handles repetitive, time-consuming tasks so that revenue cycle staff can focus their efforts on value-generating activities for their organizations and patients.
For example, some automation solutions can automatically edit claims that are scrubbed for resolution to support claim submission to clearinghouses and payers, which in turn, improves the clean claims rate.
Additionally, machine learning models that use robust data sets and previous documentation against the codes that are assigned could enable a proactive, predictive denials solution in which the accurate documentation and coding are completed before claims are sent out.
AKASA's Unified Automation® platform allows for streamlined processes and handles the manual work of redundant, administrative tasks so that RCM staff can focus on areas that need human touch and on revenue-generating tasks. By combining leading-edge AI and machine learning, our automation is able to learn from client data and continuously adapt to changing environments.
This allows you to focus on focus on improving the patient experience, combatting denials, and ultimately improve your overall revenue integrity.
"When you bring in automation, and you proactively manage your staff and watch queue counts, you'll find your staff is suddenly working through way more than before. And you're not just working the same things as before. When you've automated out prior auth or claims status, your team can redirect their attention to working accounts further out and reducing days in AR, improving time to collect, and working denials. As a result, your overall revenue integrity increases — and with the same staff you had before."

– Amy Raymond, VP of Revenue Cycle Operations at AKASA
Ready to see how AKASA can help bolster your healthcare revenue integrity? Schedule a demo to learn more.