Challenges significantly impair revenue cycle employee recruitment and retention
February 23, 2022 — South San Francisco, Calif. — AKASA™, the leading developer of AI for healthcare operations, released findings from a new survey where healthcare finance leaders ranked the biggest challenges in recruiting and retention within the revenue cycle as healthcare organizations navigate significant staffing gaps across the board.
The survey of more than 400 healthcare financial leaders ranked the following as the biggest challenge impacting operations:
#1: Competitive market for talent (71%)
#2: Vaccine mandates (42%)
#3: Employee burnout (41%)
#4: Rapid employee turnover (40%)  
#5: Limitations to offer remote work (23%)
"The back office of healthcare is essential to keeping the doors of hospitals open by making sure the bills are paid," said Malinka Walaliyadde, co-founder and CEO of AKASA. "Yet, these teams are facing labor shortages like never before. COVID-19 has stretched hospitals and healthcare systems beyond the breaking point. And for all the new problems the pandemic has introduced, it has also shone a light on decades-old issues, where healthcare operations teams have historically been understaffed. To tackle these challenges, leaders should continue to evolve strategies that boost morale and recruitment efforts, and examine opportunities to leverage AI to alleviate the burden on their teams."
Staff churn and the onslaught of COVID have both resulted in healthcare professionals working overtime and extra shifts. Beyond burnout, this is putting added financial strain on healthcare systems, as overtime pay is often higher than standard pay and further taxes the already-depleted resources of many revenue cycle departments. Added financial strain makes it more difficult to hire the additional people who are needed, which furthers the workload of the current team – creating a vicious cycle.
With the recent Supreme Court decision upholding the healthcare worker vaccine mandate, some healthcare leaders may find it more difficult to find new talent or retain current staff who have been resistant to complying with the requirements – especially in states which have been lax on enforcing COVID-19 restrictions.
As remote work increases and becomes the norm, hospitals and healthcare organizations are now competing with other providers across the country for the same talent. If a revenue cycle specialist is working at a local provider and making $14 an hour — but can remotely work for a larger healthcare provider in another state for $16 an hour — they have little reason to stay put. This also puts smaller systems and more rural ones (who often have lower pay scales) at an extreme disadvantage. Individuals are also leaving jobs for lateral moves, with the same pay, if it means they can work remotely.
"The hard truth of the revenue cycle is that no one ever touches everything," said Amy Raymond, head of revenue cycle operation at AKASA. "There isn't enough time or staffing resources. What happens? Queues get deprioritized, denials aren't appealed, accounts receivable gets increasingly aged, payments are delayed, and write-offs go up. This is where automation can have a tremendous impact. Implementing automation immediately expands a team's capacity to work. More tasks can be worked with the resources and time a team has. Automation also allows RCM leaders to elevate their staff to work more challenging, rewarding work and allows them to work at the top of their skill set."
AKASA is helping leaders understand the changing dynamics impacting the revenue cycle, offering strategies and insights from our experts and solutions to transform healthcare operations in this challenging environment. To learn more, download our new report, "No Resignation: Solving Today's Greatest Staffing Challenges in the Healthcare Revenue Cycle."
What challenges are you experiencing right now with revenue cycle staff?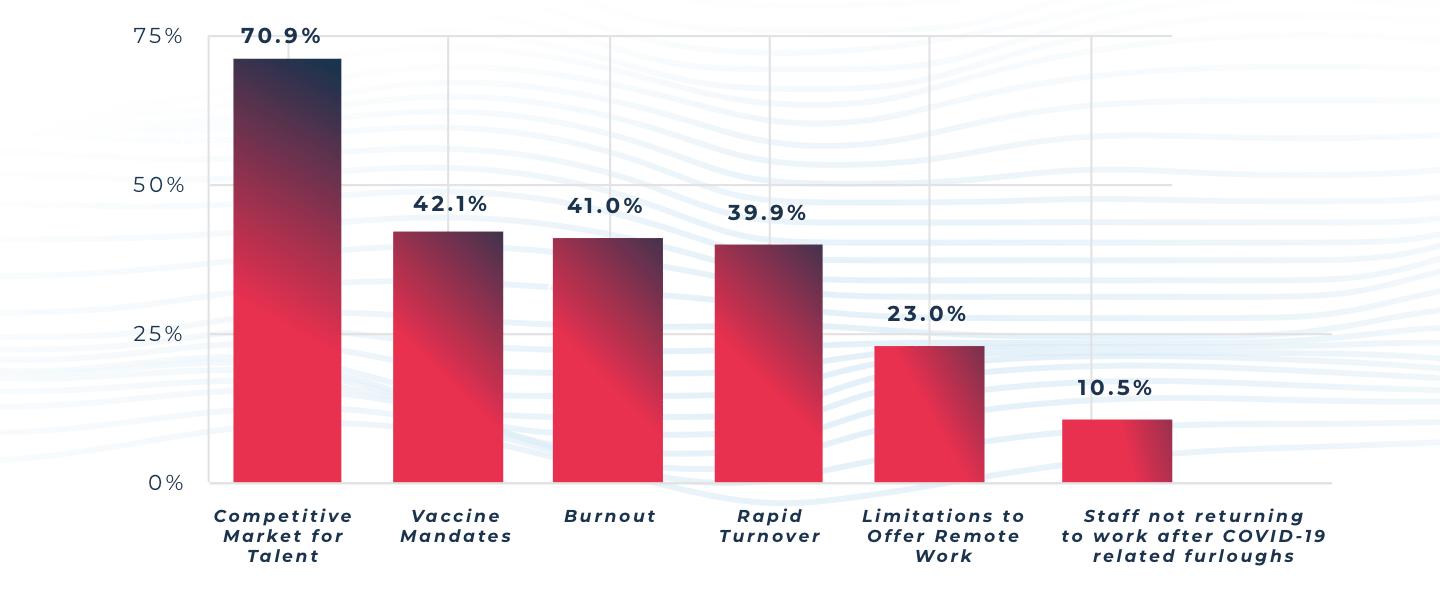 Commissioned by AKASA, the survey fielded responses from 411 chief financial officers and revenue cycle leaders at hospitals and health systems across the United States through the Healthcare Financial Management Association's (HFMA) Pulse Survey program between December 1, 2021 and December 21, 2021.
About AKASA
At AKASA, we believe every dollar spent on healthcare matters because healthcare matters to everyone. The only Unified Automation™ company for healthcare, AKASA uses the same machine learning approaches that made driverless cars possible to provide health systems with a single solution for automating revenue cycle operations. AKASA's unique expert-in-the-loop approach, Unified Automation, combines modern machine-learning with human judgment and subject matter expertise to provide robust and resilient automation. Unified Automation™ adapts to the highly dynamic nature of revenue cycle operations and has been purpose-built for healthcare. AKASA enables health systems to decrease their cost to collect so they can invest more in patient care and be better stewards of the healthcare dollar. AKASA is based in the heart of Silicon Valley. Learn more at www.AKASA.com.
AKASA has a work-from-anywhere attitude and we are hiring. Step into the future of healthcare with AKASA. Learn more at www.AKASA.com/careers.
For more information on AKASA, please contact: 
Kate Enos
Director of Media Relations
AKASA
[email protected]
916.397.6400