Effective automation can transform businesses.
The key word in this conversation is effective. Not all types of automation are equal, and more basic forms can fail in the complex and dynamic environments that are standard in healthcare.
Finding the best claims process automation solution, one that can capably adapt to changes and successfully support an organization throughout its revenue cycle management efforts, is in every provider's best interest.
Let's take a closer look at the value of effective automation, the features that separate leading solutions from other options, and how claims processing automation supports productivity and drives revenue.
Claims Process Automation: Beyond Insurer Use Cases
The claims process is crucial to the continued stability and success of healthcare providers. It's also extremely detailed, intricate, and subject to frequent changes. Add in a broad increase in claims denials in recent years — the American Hospital Association found 89% of hospitals and health systems faced a rise in rejected claims from 2017 through 2019 — and the importance of an efficient and reliable system for claims management becomes even clearer.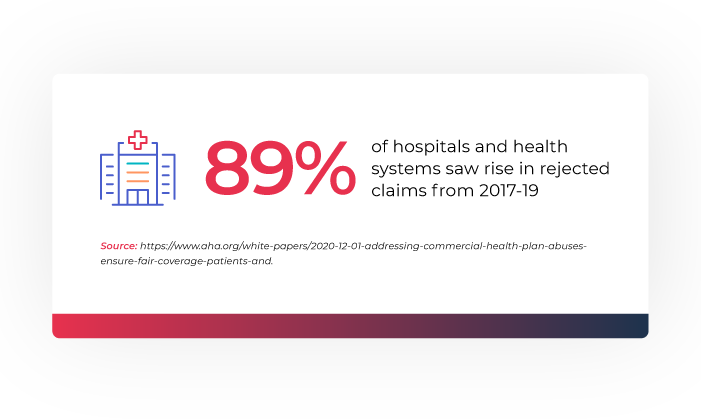 Insurance carriers have claims processing needs of their own and are increasingly turning to automation combined with human support to streamline their processes. While businesses in the insurance industry have different priorities than healthcare providers, the value of effective automation remains.
More effective allocation of employee time and resources, along with reduced costs due to increased operational efficiency, are broad benefits that come along with artificial intelligence (AI) and machine learning (ML). These powerful advantages are also accessible to hospitals and health systems through solutions that specifically address common challenges, like reducing initial denials and improving first-pass payment rates.
The vast majority of RCM departments have to painstakingly prioritize the most important tasks and focus their efforts so that it can be worked with their current staffing levels. This inevitably leads to increasingly aged A/R, delays in payments, and increased write offs. Implementing automation allows RCM leaders to assign staff/ team members to work that needs their skilled attention and allows them to work at the top of their skillset.
~ Amy Raymond, VP of revenue cycle operations at AKASA
The Most Persistent Challenges in Claims Processing
The complex nature of medical claims processing can lead to a variety of concerns, including:
1. Achieving and maintaining high clean claim and first-pass payment rates
Clean claims, those that are free of errors and expected to be ready for processing and payment, are often viewed as a key metric by hospitals and health systems. About 78% of such organizations measure the difference between clean claims and initial denial rates to forecast performance, according to a recent AKASA survey.
Organizations that shift their perspective around performance forecasting may realize stronger results, however. Instead of measuring based on assumption, as is the case with clean claims, companies should place a higher degree of focus on their first pass payment rate — the number of claims paid completely and accurately on their first submission. This accurate measure of performance can provide more actionable insight for revenue cycle leaders.
2. Optimizing workflows and realizing better utilization of employee time
Changes to payer requirements, updates to billing codes, imperfect collection of patient information, and other factors all contribute to a complicated claims processing environment. Unfortunately, some commonly used tools can add to the complexity.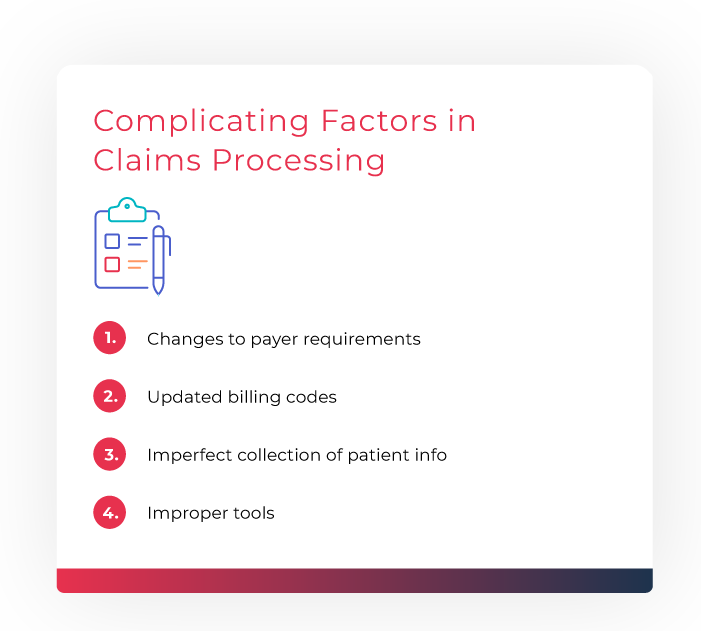 For example, robotic process automation (RPA) is commonly used to support claims management workflows, but can often be ill-suited for this task. RPA bots don't continue to function as intended when codes change or an interface or webpage is updated. Human intervention (often with a high price tag) is needed to correct and update the RPA bot to address these administrative tasks.
With the need to use dozens or even hundreds of RPA bots to effectively support claims processing, this approach ultimately requires a significant investment of time, whether directly from staff or on the part of a consultant or service provider.
The good news: Robust AI and ML paired with RPA have the power to work around these issues, and can support a better claims management process through intelligent automation.
Comparing Automation Options and Alternative Approaches
Understanding your revenue cycle team's options for optimizing claims management can help it more confidently chart a successful path forward.
Outsourcing
Contracting with an outside provider to manage the claims cycle offers quickly available and competent professionals, predictable pricing — although additional fees can become a financial concern — and an alleviation of many burdens on staff that can come with inefficient internal processes.
However, it can also create more cybersecurity and HIPAA-related compliance issues, and extend payment timelines.
Robotic Process Automation
RPA is an improvement on wholly manual data entry processes and other tools for claims processing, but is fragile and not particularly well-suited for the dynamic environment of claims management.
Traditional RPA workflows are prone to breaking when a single element in a process changes, and providers either have to commit to a high degree of maintenance or suffer the consequences. RPA also generally requires an additional expense, in the form of consulting, to support its systems.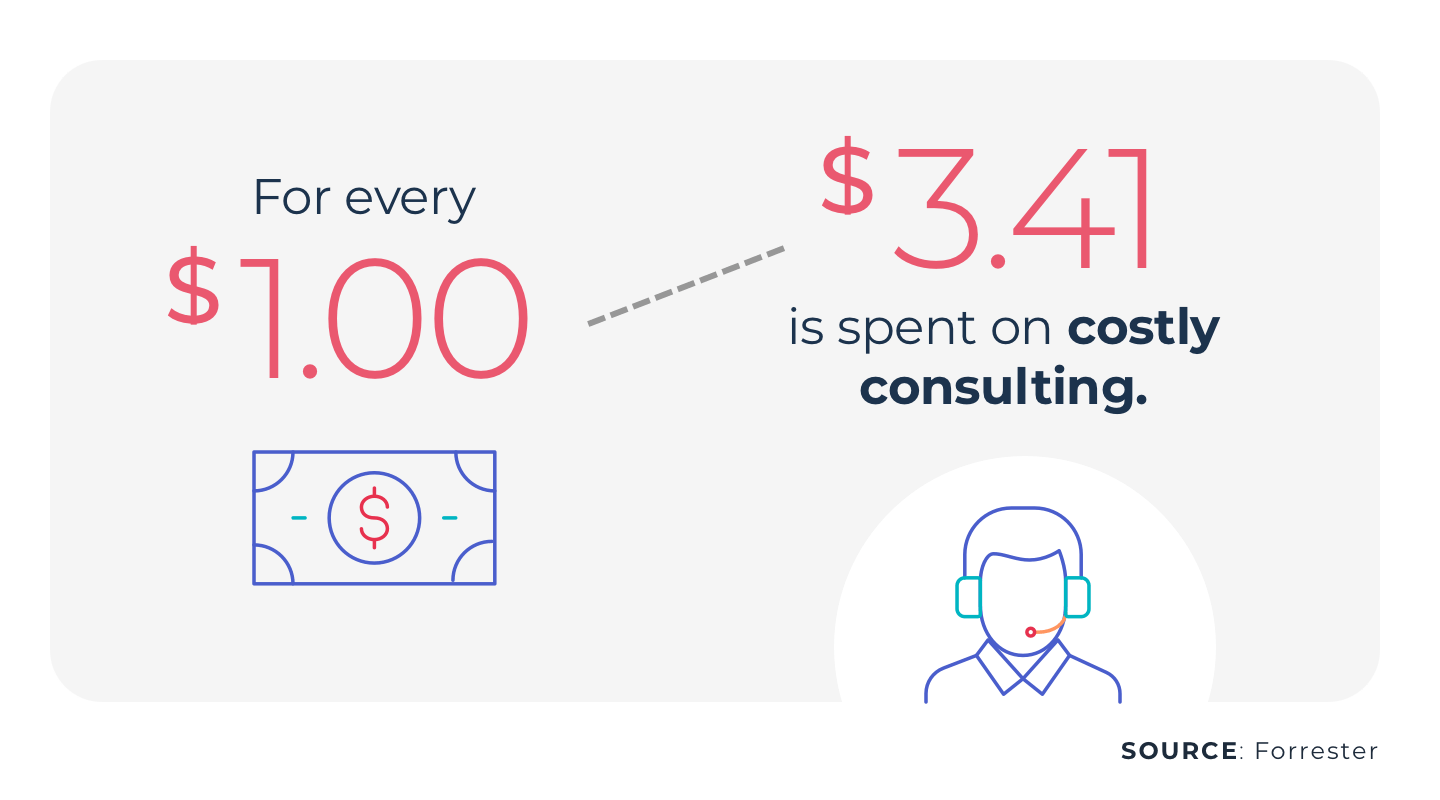 Artificial Intelligence and Machine Learning
AI and ML add value to your organization over time. These technologies quickly learn how to handle standard claims. When coupled with a human-in-the-loop process, they can support the outliers and edge cases common in the revenue cycle.
That's how AKASA works. When an unknown issue crops up, the technology routes it to a revenue cycle expert. The expert solves the issue and the technology learns. Afterward, the system can handle similar issues on its own, reducing the need for future staff involvement.
The unique advantage of intelligent automation empowers proactive and resilient workflows that can identify and address concerns before they turn into larger problems.
What Should AI-Driven Claims Process Automation Provide?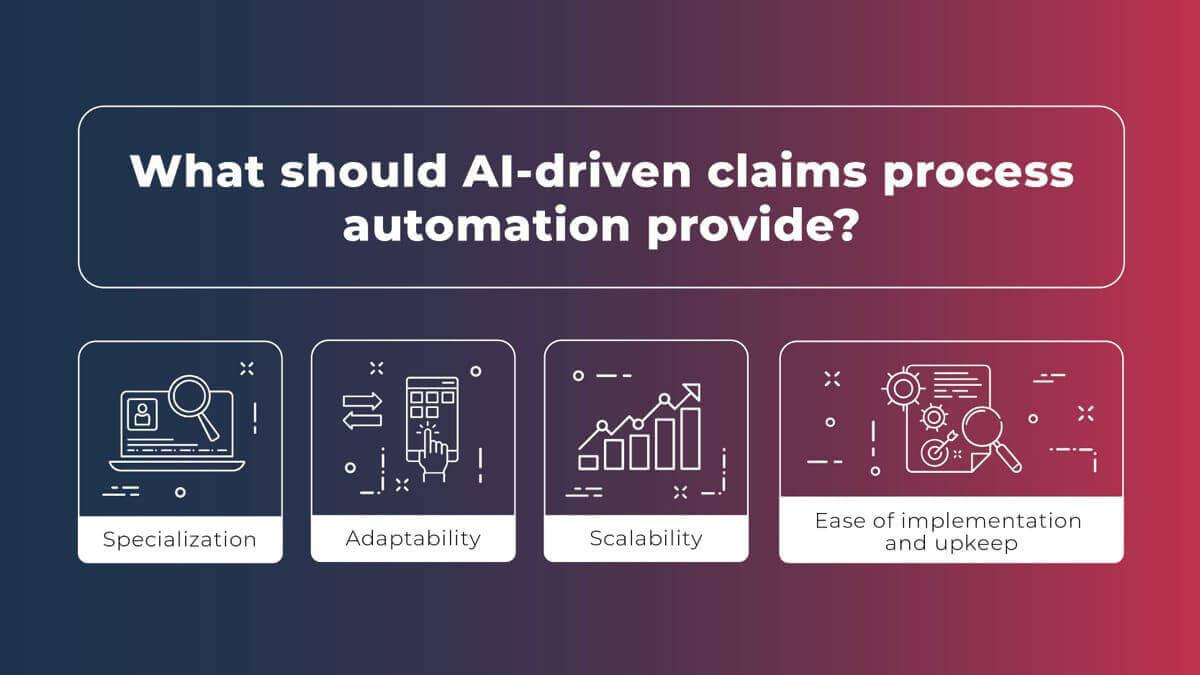 A high-quality, AI-driven solution for claims process automation solution should offer:
Specialization: The solution should be designed for claims processing and providers specifically, aligning with their needs, goals, and operational environment.
Adaptability: AI and ML offer value by changing, growing, and learning, which leads to better claims outcomes with only limited human involvement for edge cases and outliers.
Scalability: The best claims process automation platforms scale along with a provider as its operations diversify and grow.
Ease of implementation and upkeep: Automation platforms based in AI and ML require oversight for deployment and maintenance, but those needs should be modest — especially when compared to the commitment required of more fragile RPA.
With the AKASA Unified Automation® platform, hospitals and health systems can count on dependable results driven by AI and machine learning, backed by human experts-in-the-loop. This turns a complex and dynamic process that otherwise requires much staff time and attention into a more manageable and successful workflow. Your team can focus more on the activities crucial to generating revenue, and better the patient experience.
To find out more about the enduring advantages an advanced automation solution driven by AI and ML can provide, schedule a demo with AKASA.