How Automation Empowers Efficient Revenue Cycle Management
Why is the revenue cycle management process important in healthcare? In short, effective oversight and control of the revenue cycle increases operational efficiency, reduces waste of resources, mitigates excess costs through a reduced administrative burden, and supports better patient engagement.
Ultimately, the benefits of revenue cycle management (RCM) in healthcare lead to a more agile organization that can effectively allocate resources where they matter most.
Providers have the power to transform their revenue cycle from a liability and source of uncertainty into a valuable part of operations. An effective solution for healthcare revenue cycle management offers efficiency, accuracy, transparency, and scalability on a consistent basis. With that solution in place, providers can achieve everything from more focused and strategic revenue teams to significant operational savings.
~ Amy Raymond, Vice President of Revenue Cycle Operations at AKASA
Let's take a more detailed look at some of the most important benefits of revenue cycle management in healthcare and how they support broad and positive change for providers.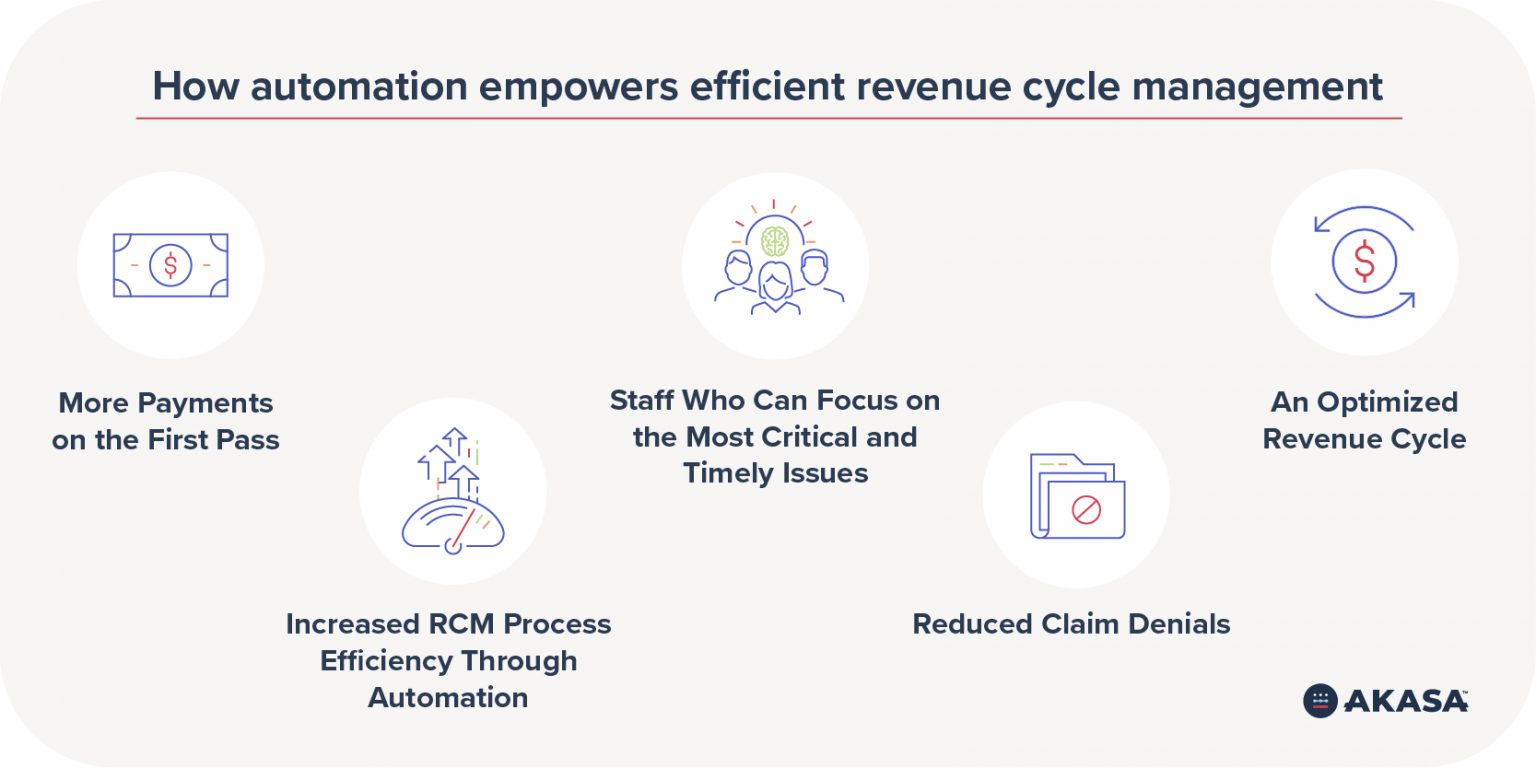 1. More Payments on the First Pass
When payers approve claims on the first attempt, there is no need for follow-up efforts on the part of staff to correct errors and add missing information.
With the right revenue cycle management solution in place, one that relies on robust automation and prioritizes consistency, providers can reliably achieve a high first-pass payment rate. This especially reliable metric is unfortunately often passed over in favor of tracking clean claim and initial denial rates, but can be critical to more informed and successful operations.
Automation based on artificial intelligence (AI) and machine learning (ML), developed specifically for healthcare revenue cycle needs, plays a key role in solutions designed for claims submission, preparation, and management.
AI has the capacity to complete tasks that would otherwise require human attention and intelligence. It can collect patient information, comprehensively manage claim status, and more.
ML empowers the solution to adapt, adjust, and improve with only a limited amount of targeted human intervention. This makes it possible to optimize for a more effective and efficient claims process.
2. Increased RCM Process Efficiency Through Automation
Reliable, effective, and adaptable automation are the foundation of effective revenue cycle management processes.
The benefits of automation are vast, which helps to explain the 12% year-over-year increase in automation use by healthcare providers, according to an AKASA-commissioned survey. Advanced automation driven by AI and ML can be applied to nearly every part of the revenue cycle — from first contact with patients to addressing denials in claim processing. However, the advantages they provide can be broadly sorted into two categories:
More reliable processes: AI and ML offer a level of dependability above what humans can offer. It's possible for solutions driven by AI and ML to both repeat the same medical billing tasks thousands of times without error and to make process adjustments either on their own or with minimal human support.
Reduced opportunity for human error: Even the most skilled, attentive, and alert employee can unintentionally introduce an error into a key process. Something as small as a misplaced decimal point or just two transposed numbers could ultimately lead to issues with patient payments or payer claim approval. An automated revenue cycle management solution eliminates the vast majority of these possibilities throughout the revenue cycle. Manual workflows simply cannot offer the same level of confidence.
3. Staff Who Can Focus on the Most Critical and Timely Issues
With robust automation handling a wide variety of repetitive yet vital tasks and responsibilities in the revenue cycle, providers can more effectively leverage the talents and experience of their RCM staff. The effective application of personal abilities, like critical thinking, active listening, and complex interpersonal communication, offers organizations powerful value.
When a truly unique issue with billing arises, or a payer has a member of its administrative staff reach out about an incomplete claim or unusual denial, a human touch can be crucial. Interactions with patients around payments can also benefit from a warmer, person-to-person approach as opposed to a fully automated process. Whatever the specific needs a provider may have, implementing an effective revenue cycle management solution enables team and departmental leaders to assign the most critical and time-sensitive issues to their staff.
4. Reduced Claim Denials
With claim denial rates rising for 89% of hospitals, according to an American Hospital Association (AHA) survey that spanned from 2016 to 2020, it's increasingly important to implement an effective response for handling denied claims. Not only does denial management help your healthcare org collect more revenue, it also helps patients navigate the oft-frustrating world of insurance eligibility.
The AHA noted that issues with prior authorization played a significant role in this claim denials increase. Collecting and submitting complete and accurate information as part of the initial claim, as well as a careful review of denials and the reasoning for them supplied by payers — a root cause analysis — is crucial for avoiding this unfortunately growing trend.
Learn more about key prior authorization processes to automate.
AI and ML have the capacity to not only reduce denials through more consistent and error-free processes and effective analysis, but to predict them as well. This makes AI and ML a core part of denial management. Adjustments made before a claim is submitted can result in a significantly shorter timeline in terms of payment and resolution, as opposed to adjustments made after the fact.
5. An Optimized Revenue Cycle
Automating one or a few key processes in the healthcare revenue cycle is better than a fully manual approach, but a thorough automation strategy can offer many more benefits to providers and ultimately streamline the billing process for patients and providers alike.
Similarly, the type of automation used can be critical for success. Robotic process automation (RPA) offers a rigid, rule-based approach to completing tasks and supporting revenue cycle goals. The amount of work involved in scripting and maintaining these tools can become a significant drawback, and their fragility means they can't be relied on in the same way as AI and ML. RPA works well for certain administrative tasks. But sometimes you need to layer on additional technology.
When all major aspects of the revenue cycle incorporate purpose-built and dependable automation, process efficiencies and opportunities to reduce waste multiply. The high level of adaptability — crucial when workflows change on the payer and provider sides — supports continued excellence in operations. The ability to generate analytics and make strategic course corrections leads to leaner and more successful processes over time. More claim approvals, fewer denials, and faster timelines for key processes all support improvements in cash flow.
The result is optimized, broadly effective revenue cycle management.
Moving Your RCM Organization Forward With Unified Automation
AKASA has developed a unique and powerful solution purpose-built for revenue cycle management in the healthcare industry: Unified Automation®. By bringing best practices and deep healthcare and automation knowledge together with AI, ML, and targeted support from human experts, Unified Automation scales human intelligence to learn, adapt, complete complex workflows, and deliver valuable analytics. The result is a seamlessly integrated, customized solution that reduces operating costs and helps healthcare organizations allocate resources where they matter most—improving the quality of care for those you serve.
Request a demo to learn how AKASA can help your organization achieve these valuable benefits of revenue cycle management.