As a part of our People of AKASA series, we're interviewing the folks behind the brand. From engineering to revenue cycle operations to customer success to culture, here are the people building the future of healthcare with AI.
Today, meet Krista Polikaitis (she/her), an implementation engineer, and learn about her love for the outdoors and her jump from mechanical engineering to software engineering. Connect with Krista on LinkedIn.
AKASA caught my eye because I've always been interested in healthcare. I wanted to work for a company that I thought was going to make a positive impact on the healthcare system for the future.
~Krista Polikaitis, Implementation Engineer at AKASA
1. What's your job at AKASA?
I'm a newbie implementation engineer at AKASA, just joining the company in July. As an implementation engineer, I have to wear a lot of hats.
Usually, it starts with being assigned to a specific customer as the engineering support. This means working closely with our customer success, technical program management, and revenue cycle operations teams to ensure that we have the right specifications for the customer. From there, I'm responsible for building out that spec. This involves building our solution for working with the customer's EHR system, building the portal scraping for the insurance payors, and much more. After building, we're responsible for testing and monitoring the implementation to catch any possible hiccups along the way.
Outside of customer-specific work, I'm also responsible for being on-call periodically for our portal scraping. This is a very interesting experience because I have to be able to respond to any possible errors across all customers.
Jumping into the technology for the rev cycle and healthcare was definitely an intimidating experience in the beginning. Luckily, AKASA has had a great onboarding process that has helped to clear some of these uncertainties. The process includes very specific learning meetings in which we interact with medical EHR systems. This has been very useful in understanding the workflows.
As part of the AKASA onboarding process, I've been able to join many interesting and exciting meetings to help me learn about the company and what we do. Not only are we learning about the impressive tech stack, but I've also been able to attend some awesome talks about exactly how the revenue cycle works.
I'm sure that my responsibilities will continue to grow as I put some more mileage under my feet and I'm so excited to get more acquainted with the AKASA system.
2. Why did you join AKASA?
I had been interested in joining a startup because I wanted to be able to jump into a role that would challenge me and make me grow as an engineer. AKASA caught my eye because I've always been interested in healthcare. I wanted to work for a company that I thought was going to make a positive impact on the healthcare system for the future.
With a husband in medical school and a mother who is a nurse working in the revenue cycle herself, I understand the complexity of healthcare revenue management and how automation can truly make a difference.
I was also interested in AKASA because of the company culture. I was instantly attracted to the idea of a remote company and the flexibility that comes with being remote. I'm happy to say that the culture is as great as I had hoped it would be. It's very easy to communicate with team members via Slack and Zoom and being remote has no effect on our work. It has also been great to experience virtual events with the entire company and I look forward to more in the future.
3. Where are you living and working these days?
I'm originally from the Chicago suburbs but am currently located about an hour and a half away in Rockford, IL because my husband, Kovas, is in medical school here. We're really happy with our location because we're very close to forest preserve trails, close to Wisconsin for all of the camping and hiking, and not too far from our family.
My extended family is very close-knit and has been very present throughout my entire life. All four of my grandparents were refugees from Lithuania during the Soviet occupation and established their new home in Chicago. So we were all very close growing up. There's a huge network of Lithuanians in the Chicago area and I actually met my husband through this crazy network. Fun fact: we went to the same Lithuanian Montessori school as kids.
While we love the midwest, we are hoping that my husband can get a residency placement out west so that we can be closer to the mountains (Denver, please!).
4. If you could only eat one meal for the rest of your life, what would it be?
Giordano's deep dish cheese and mushroom pizza. I'm a Chicago person, so deep dish is just a way of life!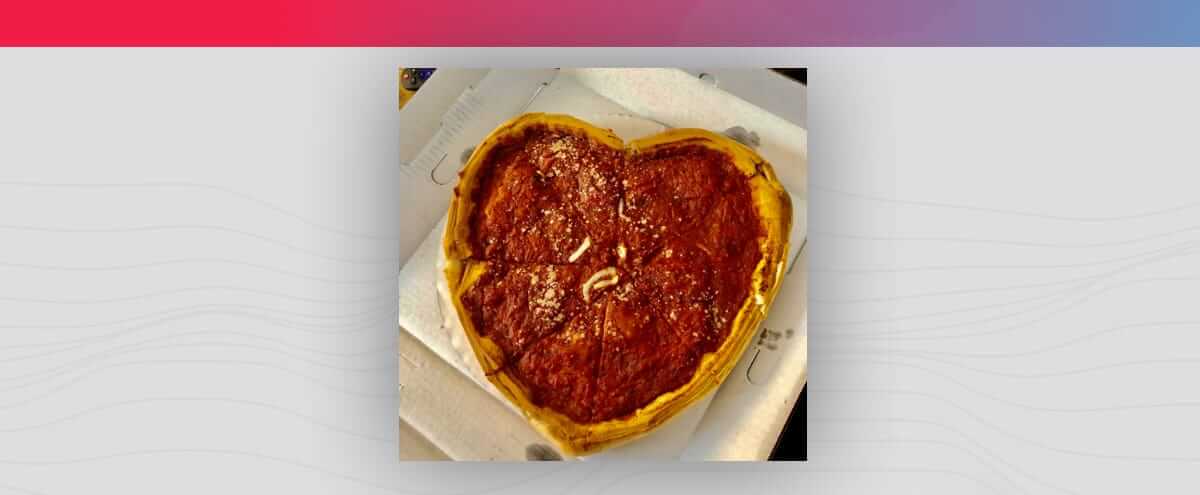 5. What does your typical day look like?
I'm very much a creature of habit, so most of my days have a similar structure and the only change is what I am currently working on at the moment.
I'm 100% a morning person. My husband makes fun of me because I like to be in bed and asleep by 10 p.m. I love to wake up with the sun and get my day started. I usually wake up at 6:30 a.m. (central time!) to have a cup of coffee with my husband before he rushes off to the hospital.
After that, I like to take my labradoodle, Yoki, out to a park and enjoy a 5–7 mile run. After showering and more coffee, I start my workday.
I start by reviewing what I did the day before and organize my tasks for the day. Then I dive right in. This usually involves coding, debugging, and moving forward with my tasks. On a normal day, I will have 2-3 meetings that are either related to the current tasks or are 1:1s or daily standups.
Around noon, I like to take a break from the computer and go outside and play ball with my dog in the backyard. She usually gets antsy at this point anyway.
After some much-needed outdoor time, I dive back into work. This time is especially important because it overlaps with my colleagues who are in pacific time. I make sure that I ask my questions during this time and meet via Zoom if needed.
I usually end my workday around 5 p.m., so that I can get some much-needed time with my husband after work. We cook dinner together (usually some type of curry) and then go for a walk at the golf course near our house. After that, he has to get to work and study, study, study, so I take the time to read and decompress. I'm usually in bed and ready to go to sleep at 10 p.m., ready for the next day!
6. What was your first job?
My first job was not a software role. I received a degree in mechanical engineering and took a job out of college working as a manufacturing engineer at an axle manufacturing company. I'm very grateful for this role because I was able to hone in on what I was actually interested in.
What I learned was that I was more interested in computer technology rather than mechanical technology. I found that much of my day was spent "putting bandaids" on machines that were built a long time ago in order to keep production moving. While this was challenging, it wasn't the "engineering" that I had hoped for while studying in college. What I was looking for was something new and innovative, something that I could build from the ground up.
As I researched for mechanical engineering roles that could satisfy this "engineering itch", I came at somewhat of a block. I could search for a role as a design engineer, which would have me working on new and exciting models, but I had to move for these types of roles. With a husband in medical school in a rural location, this wasn't an option.
I thought back to my first job and how the best parts of fixing a machine were when I was handling the computer code. I did some research on software engineering roles and realized that there were many remote opportunities that would be challenging and exciting at the same time. This realization was the start of a bigger decision to switch to software engineering.
I started out slowly, by taking free courses online (like freecodecamp.org and Harvard's CS50 online course) to learn the basics of computer programming. From there, I was hooked. I spent a lot of my free time learning more fundamentals before deciding to take a coding boot camp (Codeworks). I advise anyone who is interested in doing a coding boot camp to spend the time on learning fundamentals before deciding to take the course. Boot camps are long and intense, and if you don't like what you're doing, you're not going to succeed. After completing my boot camp, I took time to study for applications and interviews. After a couple of months, I accepted an offer with AKASA and here I am!
I'm so unbelievably happy with my decision to switch from mechanical engineering. I'm happily working from home with my dog and able to spend my extra time with my husband, instead of on a commute. I'm also able to work on new technologies that are constantly changing, which keeps me challenged as an engineer.
7. What AKASA value is the most meaningful to you?
Play the Team.
I was a Division 1 volleyball player at Miami University in Ohio (we won the Mid American Conference and made an NCAA appearance my senior year).
As an athlete, I've experienced how important it is to be a team player. We're only as good as the people around us and I'm truly impressed with the way that AKASA has put this into practice. I have no doubt that anyone on the AKASA team will be able to answer any questions that I have. Not only are they there to help me out, but they also value my work and opinions. I'm proud to be a member of the AKASA team.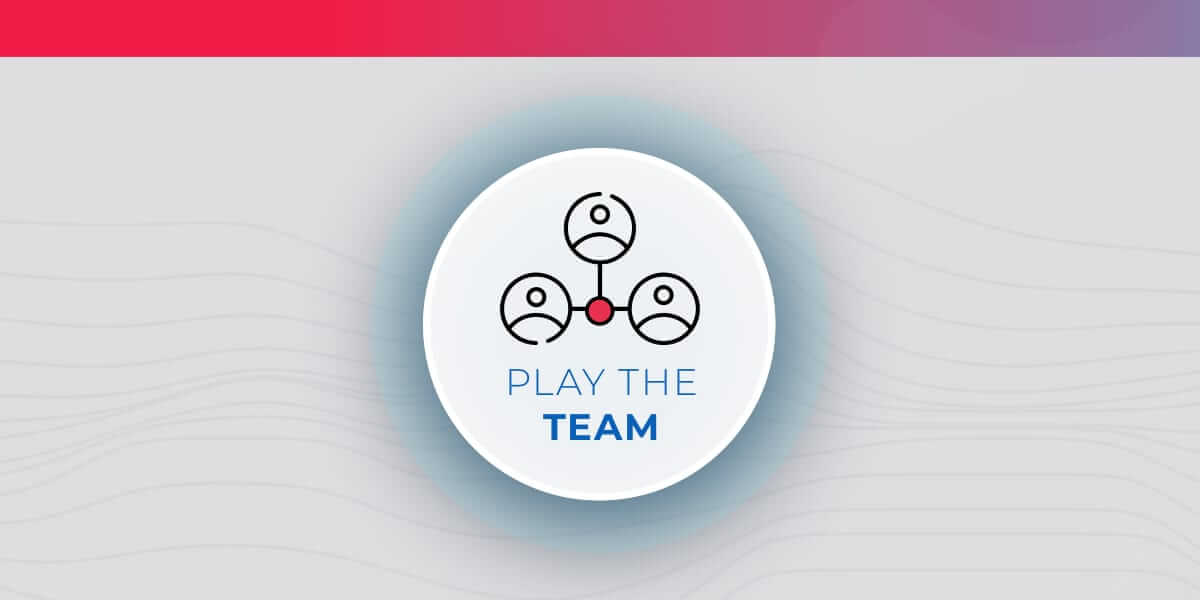 8. Complete this sentence: I'm happiest when…
I'm outdoors.
As long as I'm outdoors with my husband and my dog, I'm as happy as a clam. Our favorite things to do outdoors are trail running, hiking, camping, swimming, and just laying around.
On most days, I actually work outdoors for a couple of hours to enjoy the sunshine and fresh air (as long as it's not snowing!). I'm very grateful for the opportunity to be able to work outdoors whenever I want.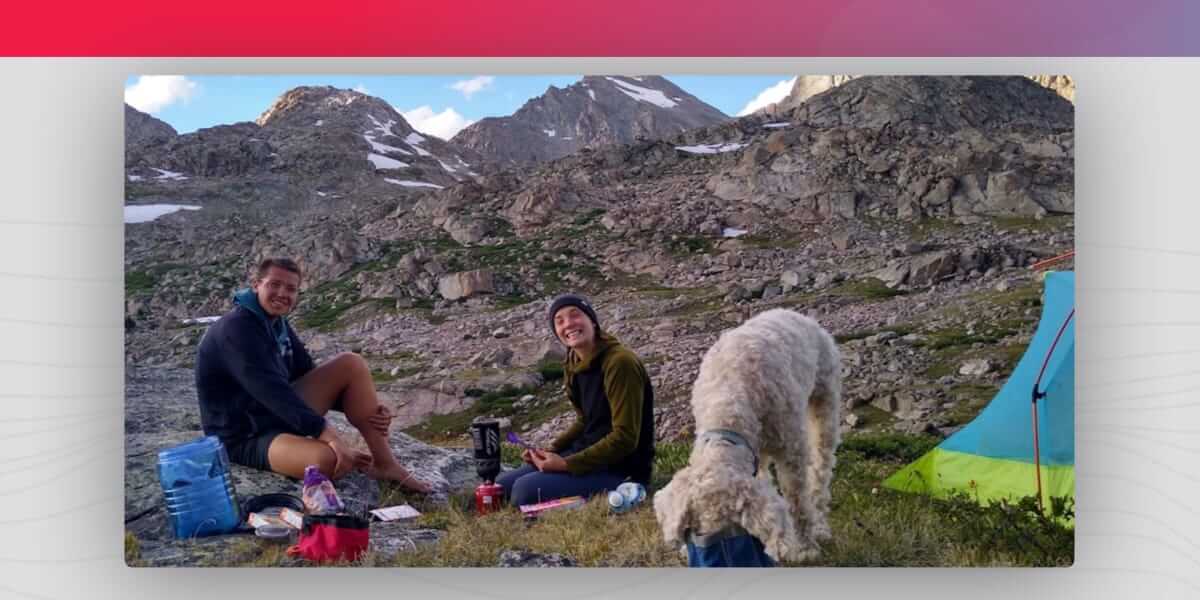 9. What's your work setup?
I usually work from my office at our house. I have a pretty neat setup with a standup desk and an under-desk treadmill so that I can keep moving my legs throughout the day! Usually, throughout the day, I'll want a change of scenery. I'll either work from my table in my backyard or at the kitchen table, just to switch it up!
My favorite things on my desk are my rocks. When I go on a hike or backpacking trip somewhere new and exciting, I love to find an interesting rock to take home as a souvenir.
When I bring them home, I write the date and location on the back of the rock so that I can ID them later. I have three of my favorite rocks on my desk, two from Leadville, CO with some crazy green lichen on them and one from Death Valley, CA with some crazy interesting colors.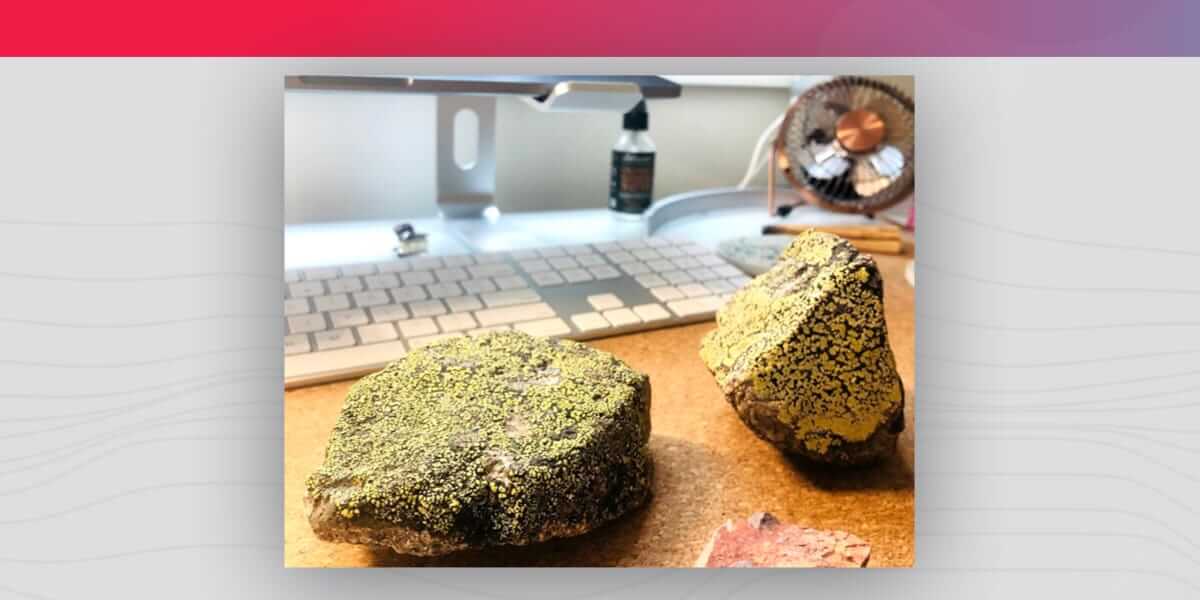 10. If you could do another job for just one day, what would it be?
I've always been so interested in the medical field. I would 100% want to see what it's like to be a doctor or nurse. I believe that the work medical professionals do is very similar to engineers, in that we're all focused on solving problems together. But not only are they handling these complex problems, but also they are the support system for patients and families in often difficult times. I'm so impressed with their ability to handle a range of different situations. I also believe that the human body is truly amazing, so I would love to be able to learn more about medical mysteries.